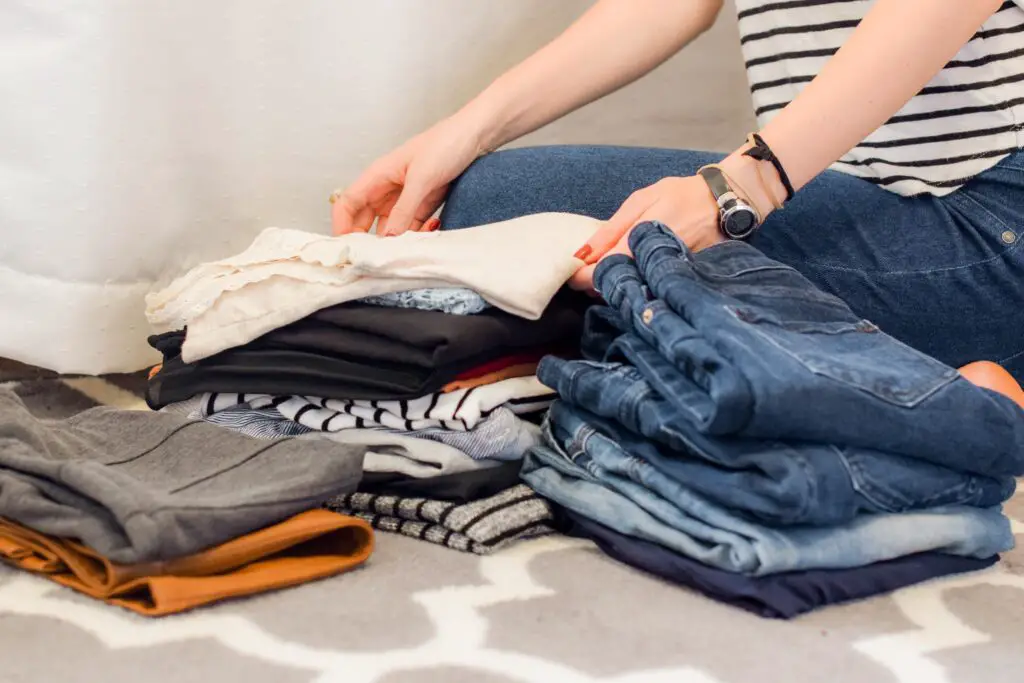 If you have been hearing about capsule wardrobes and wondering if it's something you can implement, stay and read awhile! They're not only for hip, young women. Midlife moms can have one, too! A capsule wardrobe is great for anyone who wants to:
save money
spend less time figuring out what to wear each day
have a minimalist lifestyle
use sustainable practices
stop worrying about trends
Don't those sound like wonderful things to have in midlife? No fuss! I love it. And I'm sharing how I thrifted my wardrobe and ended up saving over $500!!
**This post contains affiliate links. This means if you click and buy, I may receive a small commission (at zero cost to you). Please see my full disclosure policy for details.**
What Is a Capsule Wardrobe?
A capsule wardrobe is a smaller selection of items that are interchangeable (think "mix and match") to maximize the number of different outfits you can wear.
I sort of stumbled upon the concept of a capsule wardrobe while surfing through Pinterest and realized I was already close to having one, unintentionally. Typically, I wear the same outfits on repeat because they are simple, classic, and comfortable. Those three features are key to any good capsule wardrobe, especially for moms. As a mom who is entering midlife, I'm honestly tired of trying to be "cool." I'm just looking for things that are functional and make me feel good. Saving money is a huge bonus.
A lot of times I see suggested capsule wardrobes for each season but that feels like typical shopping…buying outfits that are currently on trend and they happen to mix and match. For me, in order to be a great capsule wardrobe, it needs to be something you can wear throughout multiple seasons and for several years. If you're going to buy a capsule wardrobe every few months, you're not going to be saving any money and you will keep finding yourself with a closet full of items you no longer want to wear.
How I Got Started
Last summer I started the process of decluttering my closet, because there is a ton of stuff in there just gathering dust and taking up space. My plan has been to sell as much as I can and eventually donate the rest. I'm already fairly established on reselling sites, and I plan to share future posts about how easy it is to get started. Right now, I'm selling on Poshmark, Mercari, eBay, and Kidizen. I just started using Vendoo to cross list to all sites and it has already been such a timesaver.
Once I separated out all of the items I no longer wear, I was left with some great staples for my capsule. All of them are neutrals, which means I can pair them with anything.
The next step was to fill in the gaps with thrifted items.
I'm going to break down for you the entire wardrobe I'm working on building, including things I already owned, items I thrifted, and items I'm saving up to buy. The only item I did not thrift is my Sorel boots, because I received them as a Christmas gift from my husband.
The Process for Thrifting
It was a bit of an arduous process for me, but so worth it. I have saved hundreds of dollars by thrifting and looking for the exact items I wanted, or at least items that were very similar. This is where it was helpful for me to follow minimalist moms on social media and get inspiration from their outfits. A lot of times they link items that are full price or on sale. Instead of buying the items I like from those links, I look for the same or similar piece on thred Up or the reselling platforms I am already on. Sometimes I have funds saved up in my reselling accounts, so I just use that money to buy thrifted items. Sometimes it feels like I'm cheating some kind of system, but I'm just being incredibly savvy with my purchasing. Anyone can do it!
What is thredUp? It's an online platform to buy women's and children's clothes secondhand. I love their mission to give new life to clothes and offset the environmental and financial costs of fashion. If you use my link, you can get $10 off your first purchase. I have been buying from thredUp since 2016. It's incredibly easy to make returns and they regularly run amazing deals to get up to 50% off items you've added to your favorites list.
There are a few items I'd still like to buy on Amazon after reading reviews and hearing they are close "dupes" for name brand items. I'm saving up for Amazon gift cards using Swagbucks. This month I've earned $25 and I'm hoping to get to the $50 mark soon so I can use that to buy a few items I still need.
The Capsule Wardrobe
And now the rundown: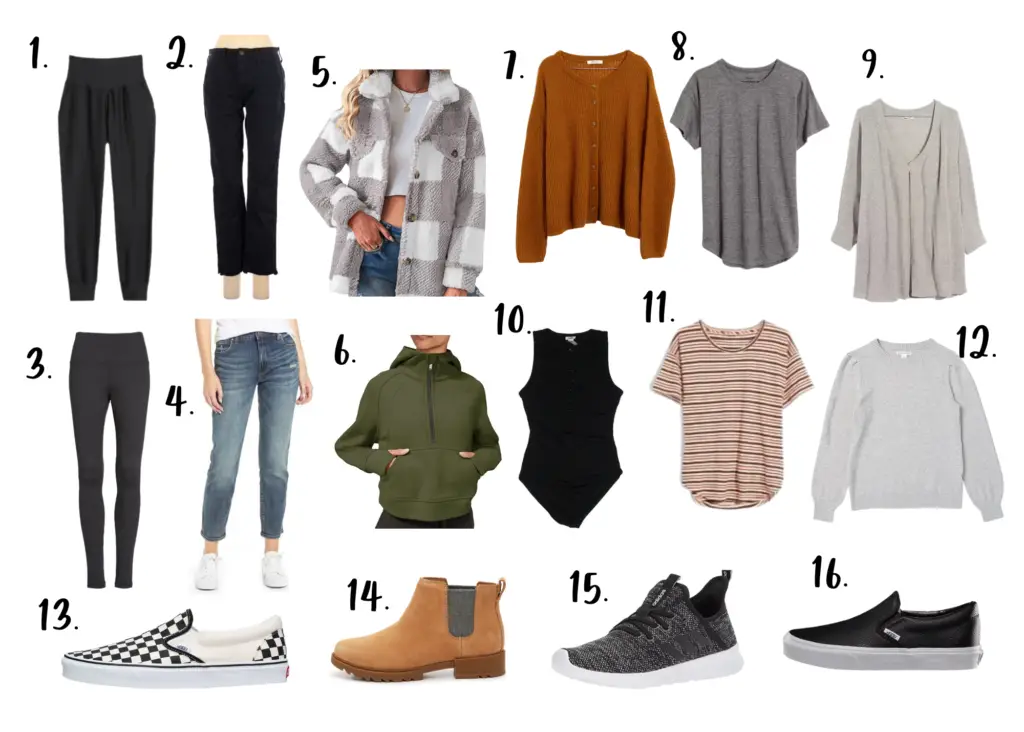 Old Navy High-Waisted Powersoft 7/8 Joggers

Original Price $39.99
Bought on Poshmark $18.00
I live in these joggers and I'm thinking about buying a second color. The fit is so flattering.

American Eagle Cropped Black Jeans

Original Price $39.95
Bought on thredUp $14.98

Zella Live In High Waisted Leggings

Original Price $59.00
bought on thredUp $15.99
I've tried several leggings but these have been the winners for going on five years now. They are amazing!

Kut from the Kloth Straight Leg Jeans

Original Price $99.00
bought on thredUp $24.02

MEROKEETY Plaid Jacket

planning to use Amazon Gift Card (check link for price)

LASLULU Fleece-Lined Sweatshirt

planning to use Amazon Gift Card (check link for price)

Madewell Bellaire Cardigan

Original Price $88.00
bought on Mercari $0 (I used my funds from sold items)
I was worried about buying something made with alpaca wool but it's the softest thing I own. Not itchy at all.

Madewell Whisper Cotton Tee

Original Price $19.50
bought on thredUp $7.00

Madewell Seabank Cardigan

Original Price $88.00
bought on thredUp $15.35

Andie Bodysuit/Swimsuit

Original Price $118.00
bought on thredUp $45.99
I justified the price on this one because it functions as two separate pieces. I wore it a ton last summer!

Madewell Whisper Cotton Tee Striped

Original Price $19.50
bought on thredUp $6.40

Amazon Essentials Women's Soft Touch Pleated Shoulder Sweater

planning to use Amazon Gift Card (check link for price)
I have my eye on this sweater because it looks like it could be dressed up or down

Vans Checkered Slip On Sneakers

Original Price $64.95
bought on Poshmark for $12.67 (used funds from previously sold items to take off 20 bucks)
So fun and match everything in my wardrobe

Sorel Emelie Chelsea Boots
Adidas Cloudfoam Running Shoe

Bought on Amazon when they went on sale and used gift cards earned on Swagbucks
These babies are THE MOST comfortable shoes I've ever owned. I've had them several years and wore them to both Disney and Universal Studios.

Vans Perforated Leather Slip-Ons

Original price $70.00
Bought on thredUp for $27.30
How Much Did I Save By Thrifting?
So essentially over the course of several years I have spent less than $200 on my capsule wardrobe. It took a few hours of work selling clothing or earning points on Swagbucks, but I'd say it's absolutely worth it.
Because most of the brands listed are higher-quality brands, I would have spent almost $750 trying to put this capsule together while shopping full price or not using gift cards. That's not something I can afford BUT I still like having quality clothes because they last longer than clothes I might typically buy on a budget.
I'm pretty proud of myself for putting this capsule wardrobe together for 2023 and saving $550 dollars. I'm looking forward to using my capsule wardrobe and easily putting together coordinating outfits. It also feels good knowing I'm practicing sustainable fashion so that clothes don't end up in landfills.
Right now, I work at a middle school and these clothes absolutely work for our dress code. I'm in a pretty laid-back district. Next year I'll be mostly at home with my youngest while picking up part time hours in various roles. These clothes will be perfect for that, too!
Making Your Capsule Wardrobe Your Own
As you can see, my wardrobe has a lot of neutrals, mostly black and gray. Those are colors I've always been drawn to, but I would recommend neutrals be the base for any wardrobe you create. Maybe black and white with pops of red? How very Parisian of you! Khaki with light blue? Dark gray and shades of purple with floral prints?
Your capsule should be a reflection of you. Look in your closet or examine the outfits you typically wear and look for patterns. What are you drawn to? What makes you feel your best?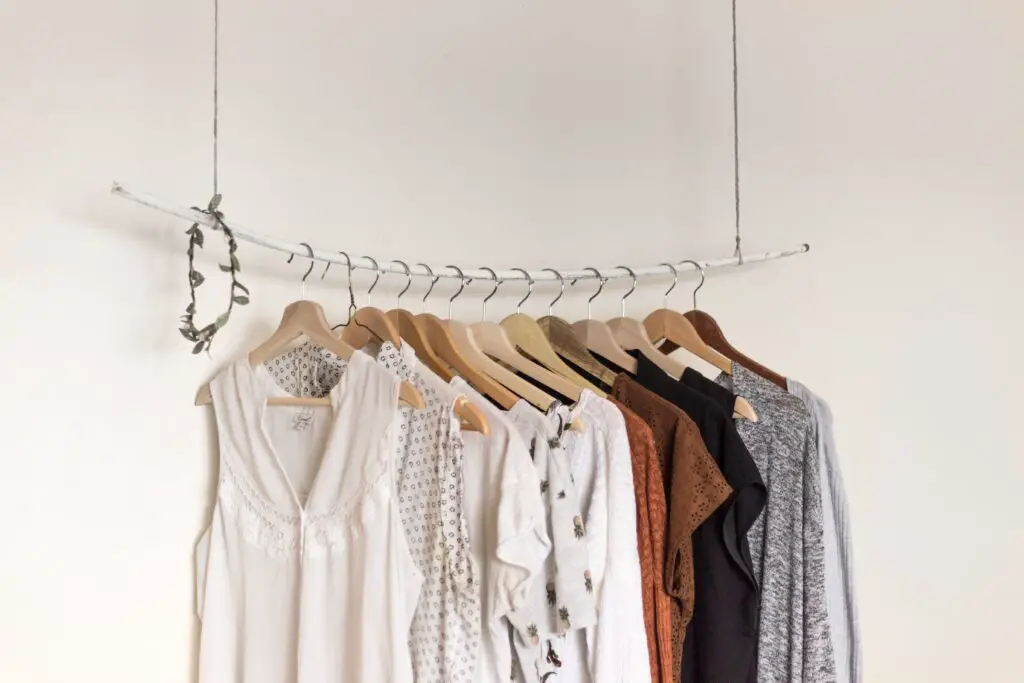 Resources for Thrifting/Reselling
Don't forget to check out these resources if you want to give a thrifted capsule wardrobe a shot.
Have you put together a capsule wardrobe? Anything on my list that you have your eye on? I'd love to hear from you!
If you found this post helpful, feel free to share or pin for later 🙂
Sincerely,
Erin