Whether you're a student ready to embrace new adventures, a parent brimming with pride, or a teacher set to inspire, let's explore how a back to school necklace can light up the journey ahead.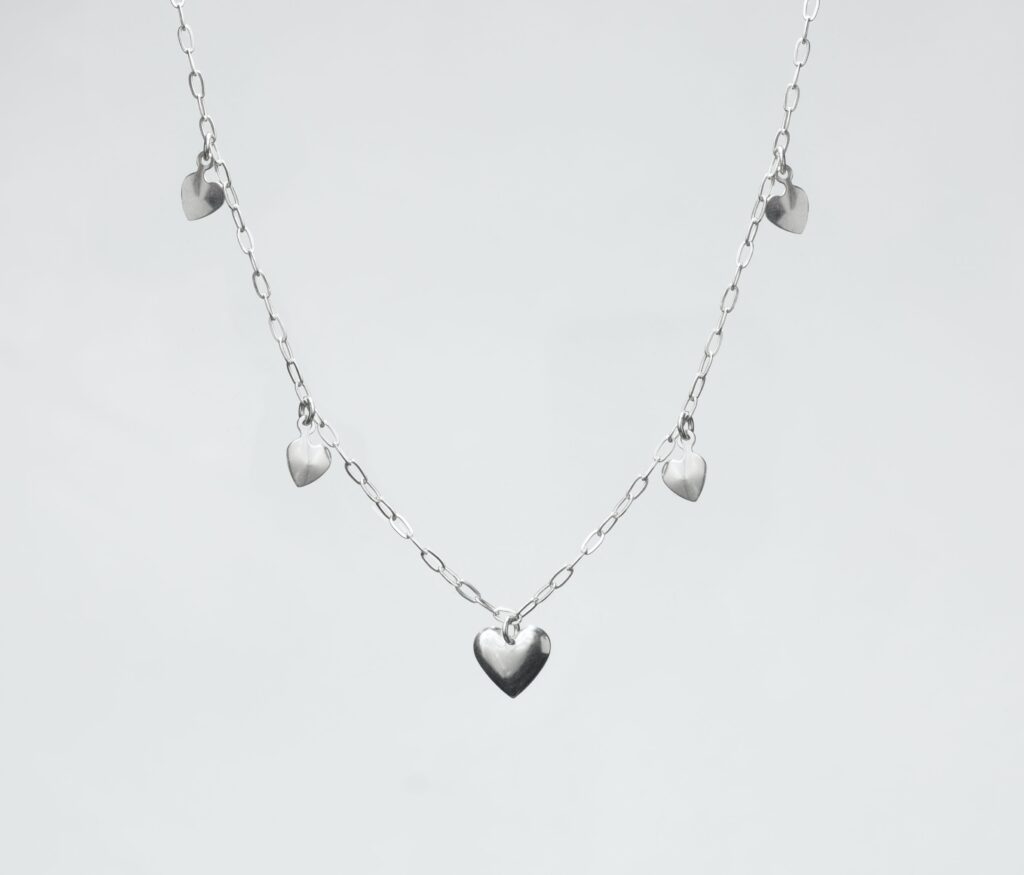 Making "Back to School" Special
I love back to school time! One of my favorite movie quotes is from You've Got Mail…
Don't you love New York in the fall? It makes me wanna buy school supplies. I would send you a bouquet of newly sharpened pencils if I knew your name and address.

Joe Fox/Tom Hanks
For most of us, it's not really fall like it used to be. It's still the dog days of summer. But this time of year still invokes excited feelings about fresh starts, class rosters, school supply lists, and first day outfits.
This is a particularly special year for me because for the first time in my adult employment life, I'm not going back to school. I'm starting a whole new gig. It's injected a whole new sense of excitement for me as a parent who can solely focus on my children's new school year.
It's kind of got me wondering…how can I invoke even more magic into this new back-to-school ritual?
Enter: back to school necklaces!
Just like the thrill of picking out the perfect backpack or outfit, these necklaces add a sprinkle of sparkle to the first day back.
They're not just accessories; they're tiny tokens of encouragement, a hug you can wear, and a delightful way to start the year with a heart full of optimism.
**This post contains affiliate links. This means if you click and buy, I may receive a small commission (at zero cost to you). Please see my full disclosure policy for details.**
Back to School Necklaces for Kids
Here are a few examples I've rounded up that resonate with different age groups, preferences, and interests.
Letter Heart Crystals Necklace

Present this necklace to your daughter on her first day of school and read the encouraging message on the card together. It's sure to lift her spirits and ease her jitters.
---
2. Dino Pendant with Encouraging Reminders

Not all little girls love gemstones and glitter. Maybe they're into dinosaurs! I love that these necklaces have positive, encouraging messages, perfect for back to school.
---
3. Celestial Necklace for Older Daughter

This is a beautiful necklace with a badass message. Older girls and teens will definitely think this is a special and still "cool" gift for the first day.
---
4. First Day of PreK Unicorn Necklace

The first day of preschool is a big milestone and can be a whole new world for little ones! I love that this unicorn necklace has mama and baby in one special pendant. Your little girl will love having the special reminder of mom with her all day long.
---
5. Jewelry Making Kit

Why not make your own personalized necklaces the night before? It has the potential to become a new "night before school" ritual for your family. When it's handmade, it's all the more meaningful.
---
6. Professional Necklace for Higher Education

Don't forget your adult kiddos! They are doing big, challenging things as they work towards their degree. Gift them a necklace that represents the path they are on.
I absolutely love this style necklace, perfect for med students and nurses. The flower is such and beautiful and unique addition!
---
9. Charm Necklace

I bought my daughter a charm bracelet last year and we love adding new charms to it to celebrate interests and accomplishments. Consider gifting a charm necklace with an inspiring charm and add to it as the year goes on. It's the gift that keeps on giving!
---
8. Vacation Souvenir Necklace

A seashell locket could be a fantastic reminder of a summer beach vacation. Include a sweet message or photo inside to make it extra special on the first day of school.
Transitioning from Vacation Mode to School Mode: The Necklace Effect
Wearing a necklace can serve as a personal reminder that even as routines change, there's room for a little bit of the extraordinary in the everyday. Whether it's a pendant that captures an interest or a favorite color, these necklaces become a source of comfort and self-expression during the school day.
And perhaps most enchanting of all, these necklaces can spark conversations. When friends gather, each necklace becomes a storytelling gem, carrying tales of summer escapades and goals for the year ahead.
In this way, back-to-school necklaces become more than just accessories – they become talismans of the transition. So, as the bell rings and the school doors swing open, these necklaces whisper, "You've got this!"
Back to School Necklaces for Parents
A lot of us are doing a happy dance that are kids are headed back and getting into a routine. We love spending time with our kids, but consistency is a great thing.
Even though we are ready for school to start, there's still a part of us that misses them when they are gone. It's even more difficult if this is a milestone year, such as first day of preschool, kindergarten, or high school. Or maybe your baby is headed off to college!
A necklace is a wonderful back to school gift for our kids, but parents deserve a meaningful token as well.
Birthstone Pendants

I love this style because I can have a birthstone represented for each of my children and it's fully customizable. Every time you look at the necklace you are reminded of your little babies and where they are.
---
2. Initial Necklaces

A necklace like this has been on my wish list for a long time. I love the simplistic, minimalist style, while still honoring your children. This year's back to school season is the perfect reason to get it for yourself!
---
3. Photo Locket

Keep images of your children close to your heart so you can sneak a peek anytime you're missing them during the school day.
---
4. Matching Back to School Necklaces

The message on this necklace is so sweet. You and your child will love having matching necklaces on the first day of school. Keep each other in your thoughts and ease any nerves.
---
5. Family Tree Necklace

I am obsessed with this dainty handmade necklace. A family tree symbol is a great reminder of the important of family and the unique things that bind you all together. Even when you're all spread out in different locations when the school year starts, you all support each other and get to come back together at the end of the day.
Why Moms Need a Necklace, Too
In a world that seems to move faster every day, these necklaces offer a quiet reassurance. They're a reminder that even as the school year progresses, your bonds remain strong.
So, as you see your child proudly wearing their back-to-school necklace, and you take hold of your own, acknowledge the powerful reassurance it brings to both of you.
Back to School Necklaces for Teachers
For educators, the start of a new school year brings a mix of excitement and a dash of apprehension. As they step into classrooms filled with eager faces, they hold a special kind of responsibility to inspire, guide, and nurture. Back-to-school necklaces, in all their sparkling splendor, remind them of their "why," while allowing for self-expression.
So, if you're a teacher, or a parent looking for a great back-to-school teacher gift, give these necklaces a look.
Sparkly Pencil Pendant

OMG this is darling. And just FYI, there are matching earrings to boot.
There are some great school-themed jewelry pieces out there. Kids love it when their teachers wear fun things. It's cute and it tells them that you have a fun side.
I'm adding another picture, because there are just too many adorable options out there. I love this colorful necklace for an art teacher or early childhood teacher.
---
2. A Necklace for New Beginnings

If you're a new teacher, a teacher changing grades or buildings, or a teacher facing a challenging year, a moonstone necklace is incredibly symbolic.
Moonstones can be a symbol of inner strength and growth. Use it as a reminder throughout your school year. Remember: you can do hard things! But also…make sure you're taking care of yourself.
---
3. Planting Seeds of Knowledge

This necklace is a great minimalist symbol of your why. The small plant engraving reminds you of the reason you got into this field in the first place.
---
4. Teacher Best Friend Necklaces
These necklaces come in packs of 2 or 3, depending on how many teacher besties you have going into this year. Your work friends can really be an anchor as you navigate the school year.
---
5. Fun Apple Statement Necklace

I had to include another fun option because there are just so many. I LOVE this Besty Johnson apple necklace that includes a fun little worm charm.
Start your school year on a playful note!
---
6. School Mascot Necklace

Find a necklace that represents your school's mascot and boost your school spirit this year! If you have a big cat or dog as your mascot, the pictured necklace is a great affordable option.
---
7. Beaded Lanyard

Most teachers end up needing a lanyard to hold their building keys and school ID. Why not pick a lanyard that looks like jewelry? I love the different bead options and gold keychains. It looks more expensive than it really is.
Teachers' Necklaces as Back to School Support
Imagine a teacher adorning a necklace with a small pendant that holds a special significance – perhaps a tiny book to represent knowledge, a star to signify guidance, or a heart to symbolize their dedication. This necklace isn't just an accessory; it's a wearable reminder of the teacher's role in shaping young minds and fostering a positive learning environment.
Beyond symbolism, back-to-school necklaces can spark connections. When students notice the teacher's necklace, it becomes a conversation starter. It might be the curious student who asks about the pendant's meaning, or the shy one who smiles in recognition, knowing that their teacher is approachable and fun.
As the school year unfolds, these necklaces silently encourage teachers to keep their spirits high, infusing each day with fun and learning.
Final Thoughts
A back-to-school necklace isn't just an accessory; it's a source of connection and/or inspiration.
For kids, these necklaces might carry the spirit of summer, easing the transition from vacation mode to school mode while allowing self-expression to shine. Parents and little ones also find solace in these tokens, as they bridge the gap between home and school.
So, whether you're a student embarking on a new adventure, a parent watching proudly from the sidelines, or a teacher igniting young minds, let these necklaces be your gleaming companions.
And I wish you all a fabulous and successful new school year!
Sincerely,
Erin