You've probably heard of a "no spend" month but that's nearly impossible when your kids are home for the summer. A low spend summer is the perfect way to have fun with your family while saving a ton of money and sticking to a budget.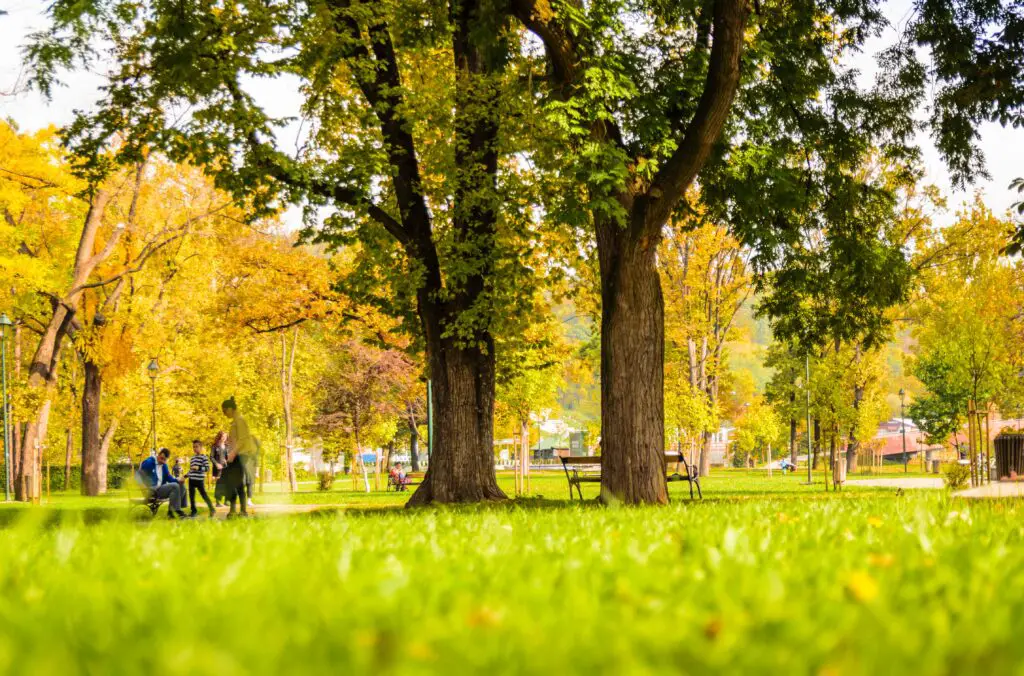 I'm leaving my job in education at the end of May. And then it's time to get really serious about changing our family's spending habits. While I do plan on securing part-time work in the fall, it's my plan to be a full-time stay-at-home-mom during the summer months.
If you're a stay-at-home mom looking to save money or a working mom who wants to improve their financial habits, give a low spend summer a try!
Some might argue that summer is the time to be carefree and spend your money on vacations, but I would argue that it's the perfect time to examine your finances. You're going to be spending more time together as a family.
When you get creative with your family time, you can bring the family closer together. You might even have the opportunity to teach your kids about smart money management.
You will definitely want to save this post to refer back to later. I plan on updating this list as I come up with new ideas!
What Does "Low Spend" Mean?
"Low spend" or "low buy" are terms typically used when talking about a spending challenge.
A low spend challenge is a challenge where you try to limit your spending and save money by being mindful of your expenses and finding ways to cut costs. The goal of a low spend challenge is to help you develop good money habits and build financial discipline.
I wrote a whole post about the benefits of a "low buy" year, because it's what my family is currently doing to navigate my midlife career change and save more money. I'm passionate about building wealth in creative ways that don't necessarily involve a 9-5.
**This post contains affiliate links. This means if you click and buy, I may receive a small commission (at zero cost to you). Please see my full disclosure policy for details.**
Ideas for a Low Spend Summer with Kids
Here are some of the wonderful things you can do during your low spend summer:
1. Visit local parks and playground
Our city's parks and recreation department puts out a magazine each spring that shows where all the parks and playgrounds are around town.
This summer, we plan to visit each one of the thirty parks in our city. We are lucky to have so many! A few of them are splash parks, which is a total bonus.
I might even make it "educational" by having them write or make a video with their reviews of the parks.
2. Backyard campout
Set up a tent in your backyard and spend the night under the stars. Roast marshmallows, tell stories, and enjoy quality time with your family.
If it's rainy, you could even make it a living room campout.
3. Family game night
Break out the board games, cards, and puzzles for a fun and competitive evening at home. The key is finding games that work with a wide range of ages. My children are ages 3, 5, and 7. A few of our favorites include:
Hidden Picture Games– Eye Found It and Spot It are great for all ages. They have Disney and Marvel themed cards. Spottington is another favorite in our house, although the pictures are super tiny so I wouldn't recommend for younger kids.
Card Games– You can't go wrong with the classics. Uno, Snap, and Go Fish are great for a wide range of ages.
Collaborative Games– I highly recommend anything by Peaceable Kingdom. These are collaborative board games, which encourage kids to work together. These are perfect for avoiding competition meltdowns.
Now, if you don't already have these games, I'm not going to recommend going out and buying them because that would go against the whole point of this blog post. Use what you already have in your house or earn free gift cards to Target and Amazon by taking surveys online. That's how I buy anything "extra" I'm wanting to purchase.
If you're bare bones in the game department, have your kids make their own with paper and crayons!
4. Scavenger hunts
Make a list of things your kids need to find inside the house or on a nature walk. Yes, there are commercial scavenger hunts out there you can buy, but trust me, you can absolutely make your own.
Make a list on a piece of paper of certain attributes they need to look for (yellow, small, fuzzy, etc.) or categories (food, toy, clothes, animal, etc.). Draw pictures if your kids aren't readers yet. Bonus points if you have a clipboard so they can feel official and cross things off as they go.
5. DIY projects
Encourage your kids to be creative and make their own arts and crafts. Use materials you already have around the house, such as cardboard boxes, paper, and markers.
In my kids' schools they call this "Maker Space." It encourages so many wonderful developmental skills and teaches kids about STEM.
You'll be amazed at what your kids will come up with!
If they're still lost and have no idea what to make, you could give them an idea like "Use the materials I've given you to create a birdhouse" or "See if you can make something that will float in the tub and keep an action figure from falling into the water."
A simple Google search of STEM challenges for kids will help you come up with ideas.
6. Visit the library
Libraries are a great resource for free books, movies, and other educational materials. Take your kids to the library and encourage them to explore and discover new things.
Check out some books for yourself while you're there! Last year, I discovered I could check out eBooks to my Kindle device. I read 86 books for free last year. It was amazing!
7. Start a family book club
Choose a book from the library to read as a family and discuss it together, sharing your thoughts and opinions. You could even get extended family involved and invite them over (or video chat) for your book club meetings.
8. Volunteer
Give back to your community by volunteering with your kids. This can be a great way to teach them about empathy, compassion, and the value of helping others. Not sure what types of volunteer opportunities would work for your kids? Here are some ideas to research in your area:
Helping at a local animal shelter: Many animal shelters welcome young volunteers to help with tasks such as walking dogs, socializing cats, cleaning cages, and assisting with adoption events.
Assisting at a food bank: Kids can help sort and pack donated food, and even participate in food drives to collect donations from their community.
Volunteering at a nursing home: Kids can visit and spend time with residents, play games, read books, and even help with activities like arts and crafts.
Participating in environmental clean-up projects: Kids can get involved in local clean-up efforts such as picking up litter in a park or along a river.
Fundraising for a charity: Kids can organize a fundraiser, such as a bake sale or lemonade stand, and donate the proceeds to a charity of their choice.
Supporting a community garden: Kids can help tend to a community garden by planting and harvesting vegetables and fruits, and even help with watering and weeding.
Participating in a local charity walk or run: Kids can participate in events such as charity walks or runs to raise awareness and funds for a cause they care about.
9. Have a family cooking challenge
Do your kids love watching kid cooking shows like mine do? Pick a recipe and challenge each family member to make their own version of the dish. You can then enjoy a family dinner together and judge the dishes.
Avoid spending money by choosing recipes that require ingredients you already have in your pantry.
If you have toddlers, this is a great sensory opportunity for them, if you can handle the mess 🙂
10. Create a family time capsule
Gather together some items that represent your family and your current time and bury them in a safe place to be opened at a future date.
11. Have a family talent show
Encourage each family member to showcase their talents, whether it's singing, dancing, playing an instrument, or doing a magic trick.
This is a great way to encourage your kids to practice instruments or skills over the summer, so they're ready for school in the fall!
12. Plan a family bike ride
Go for a bike ride together as a family, exploring your local bike paths or scenic routes.
13. Family karaoke night
If you have a karaoke machine, that's great! If not, search for karaoke songs on YouTube. You will find practically every song that ever existed.
Grab those hairbrush microphones and get singing! If anyone is too shy to sing, they can be the YouTube DJ 🙂
14. Plan a family field day
Do you have fond memories of your elementary school field days? I know I do!
Why not make your own family field day? Create an outdoor field day with fun and creative games and challenges, such as a three-legged race or water balloon toss. (Tip: save money with reusable water balloons…yep, they really are a thing now!)
Get the neighborhood families involved if you need more people to participate. The more the merrier!
15. Host a family art show
Create art together as a family and display your work in a family art show at home.
Bonus points if you invite others over to walk through your art show. My 5-year-old loves art and proudly claims he is a "great artist." He is going to absolutely love this!
16. Learn a new skill together
Choose a new skill to learn together, such as a new language, cooking, or knitting. Find books and videos at the library to guide you in your learning.
Free Financial Resources for a Low Buy Challenge
One way I keep track of all my spending, is by using a free online money management system called Empower. I can see my spending, my recommended budget, my investments, AND my net worth. I had no idea what my net worth was until I linked my accounts. It gives me a great idea of what my financial goals should be.
If you're serious about trying a low spend summer or even a low buy year, you should check out my 20-page printable resource, which includes budget trackers, spending trackers, and more! It's completely free because the whole point is trying to avoid spending money, right?
Final Thoughts on a Low Spend Summer
Remember, spending quality time together as a family doesn't have to be expensive or complicated. With a little creativity and imagination, you can make lasting memories and strengthen your family bonds.
Over to you- Is there anything from the list you will definitely try this summer? Anything you've tried that I should add to the list? Let me know in the comments!
Sincerely,
Erin