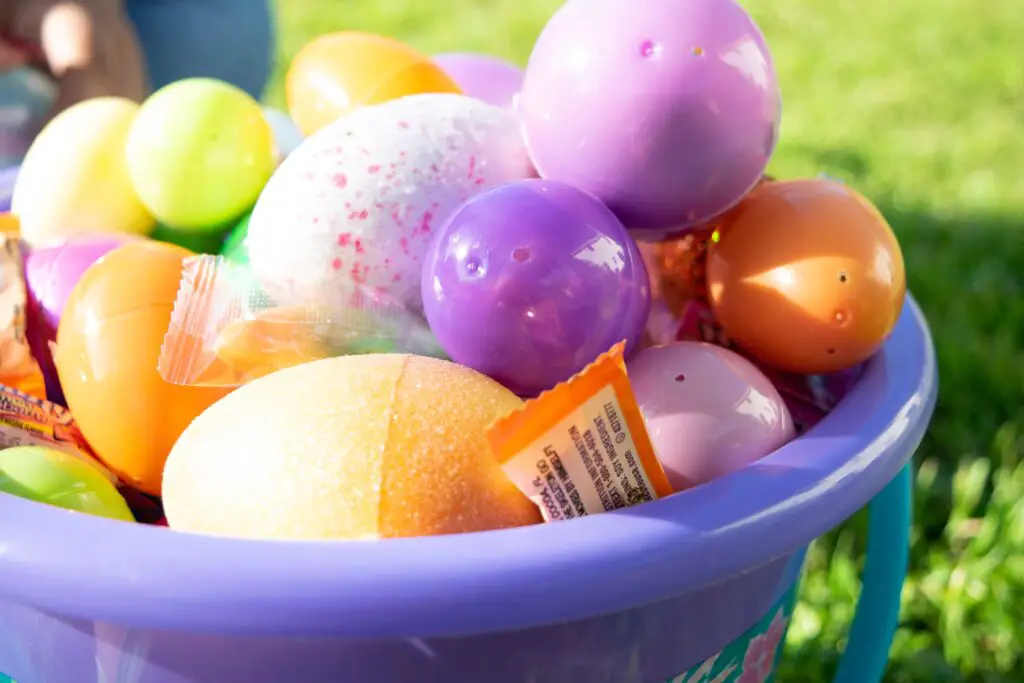 As a midlife mom of three children, my desire to go ALL OUT for easter baskets has diminished over the years. I want holidays to be magical, but I also don't want to go over the top. I have learned that minimalism can be magical as well. So, if you're looking for some Easter basket stuffers, I've put together a basic blueprint for you, along with some specific ideas.
The Importance of Easter Baskets
Easter baskets are an important tradition for many families during the Easter holiday. Easter baskets can be traced back to medieval traditions of filling baskets with food and bringing them to the church to be blessed by a priest. Many of the Easter basket stuffers are symbolic, such as the rabbit as a symbol of fertility, and the cracked egg a symbol of Christ's resurrection.
Today, Easter baskets have become a beloved part of the holiday, providing an opportunity for families to come together, participate in fun activities, and exchange small gifts.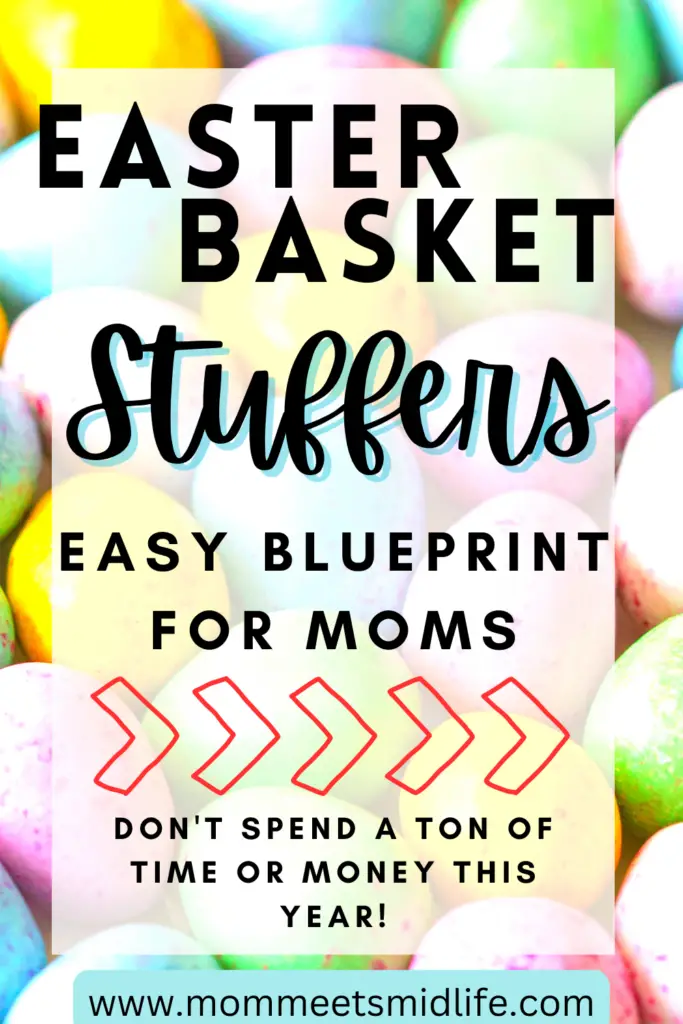 **This post contains affiliate links. This means if you click and buy, I may receive a small commission (at zero cost to you). Please see my full disclosure policy for details.**
The Best Ideas for Easter Basket Stuffers
It's very possible to go overboard with Easter basket stuffers and spend more money than you intended. We want to make the holiday magical for our kids after all. I believe it's possible to create a wonderful Easter basket and save money by sticking to a basic Easter basket blueprint. Include one or a few of each item listed below, and you should be good to go.
Candy and Treat Stuffers
It's just not Easter without candy. Much of the candy in stores around this time are symbols of spring, including bunnies and eggs. You can go a few different routes in this category:
Traditional Candy
chocolate eggs
chocolate bunnies
Peeps
jellybeans
I have fond memories as a child of Easter egg hunts and plastic eggs filled with all different flavors of jellybeans.

Non-candy treats
It can be easy to go overboard with the candy on Easter. Having some non-candy options might be good Easter basket stuffers. Some options include:
granola bars
fruit chews
Rice Krispie's
Annie's crackers (usually shaped like bunnies)
Creative Treats
If you want to mix things up a bit and surprise your kids, you could try some variations of traditional candies:
Peeps gummies
Bertie Bott's every flavor jellybeans
sour worms
cotton candy
Toys and Games
Easter-themed toys
You can't go wrong with classic Easter toys. These are very easy to find in any store or online.
stuffed animals
wind-up bunnies and chicks
bunny ear headbands
silly putty
Outdoor games and activities
I mean, it's spring! The weather is getting warmer and the kids are heading outside. Get them some fun outdoor games and activities you know they'll use and appreciate.
jump rope
frisbee
bubbles
rocket launcher
toss and catch game
nature scavenger hunt
gardening tools
Creative toy options
As long as you stick to toy options that you know will get used, anything is fair game. Make sure it fits in the Easter basket!
DIY slime kits
small LEGO sets
fidget toys
foam poppers
Arts and Crafts Easter Basket Stuffers
I love to put arts and crafts stuffers in my kids' Easter baskets. They usually need some new supplies and it's an activity that I know will keep them occupied and entertained.
markers
crayons
Scribble Scrubbies (my kids LOVE these)
stamps
temporary tattoos
egg decorating kit
sticker or magnet scenes
sketchbook
fun glitter pens
coloring books
DIY crafts
garden stepping stone
birdhouse kit
windchimes kit
rock painting
shell painting
Books
There are a plethora of Spring and Easter-themed books, such as Peter Rabbit or The Easter Egg. When my kids were infants, I made sure to give them small board books that had Spring vocabulary in them. Bonus points if they were "touch and feel" type books.
My 7-year-old enjoys chapter books and some of the series she loves are The Magic Tree House and Dork Diaries. She recently read Charlie and the Chocolate Factory, and that would be a great candy-themed book to include in a child's Easter basket.
Another creative option would be to create a personalized picture book using Shutterfly or Pinhole Press. I did that one year for my daughter's first birthday and we still love looking at it together.
Easter Basket Stuffers to Prep for Summer
This is one of the most functional things you can put into your baskets. When summer rolls around, my kids are always needing new swimsuits in the next size up, goggles, and sunscreen. I make sure to include these in their basket because it gets them excited for the next few months AND it's things they need.
swimsuit
swim cover up
new towel
sunscreen
shorts and tank tops
sunglasses
Basic Necessities
Since we're on the topic of functional, you can always include things your kids need. Older kids and teens would definitely appreciate these types of Easter basket stuffers. You can make these things more interesting by buying a new variety or flavor.
toothpaste
toothbrushes (maybe an electric one this time?)
bath bombs
hair styling tools and products
brush or comb
socks
perfume or body spray
lotion
soap
makeup and nail polish
Recap of the best ideas for Easter basket stuffers
Hopefully, this blueprint makes it easy for you to come up with Easter basket stuffer ideas. You can adapt to your own kids, needs, and budget. Pick one, a few, or all of the categories if you want variety.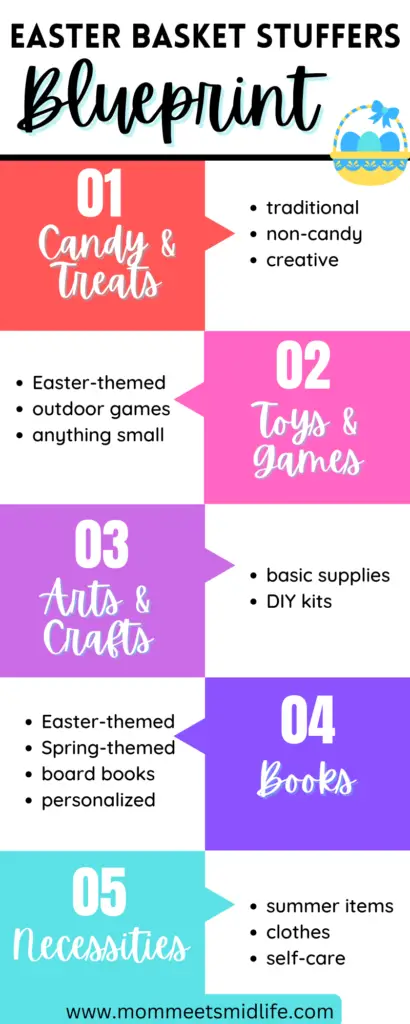 Creating Easter baskets is an important way to celebrate the holiday and bring joy to those around us. They are a tradition that dates back centuries, and they are a way to celebrate new beginnings and the arrival of spring. By putting together a thoughtful Easter basket, we can create lasting memories.
It's also important to not go overboard and spend a ton of money on things that might be wasteful. Use the blueprint from this post to help guide you in the creation of an Easter basket with fun and purposeful stuffers.
Over to you- what do you love to include in your Easter baskets? How do you make sure to stay within a budget, especially if you have multiple children?
I would love it if you shared or saved this post!
Sincerely,
Erin