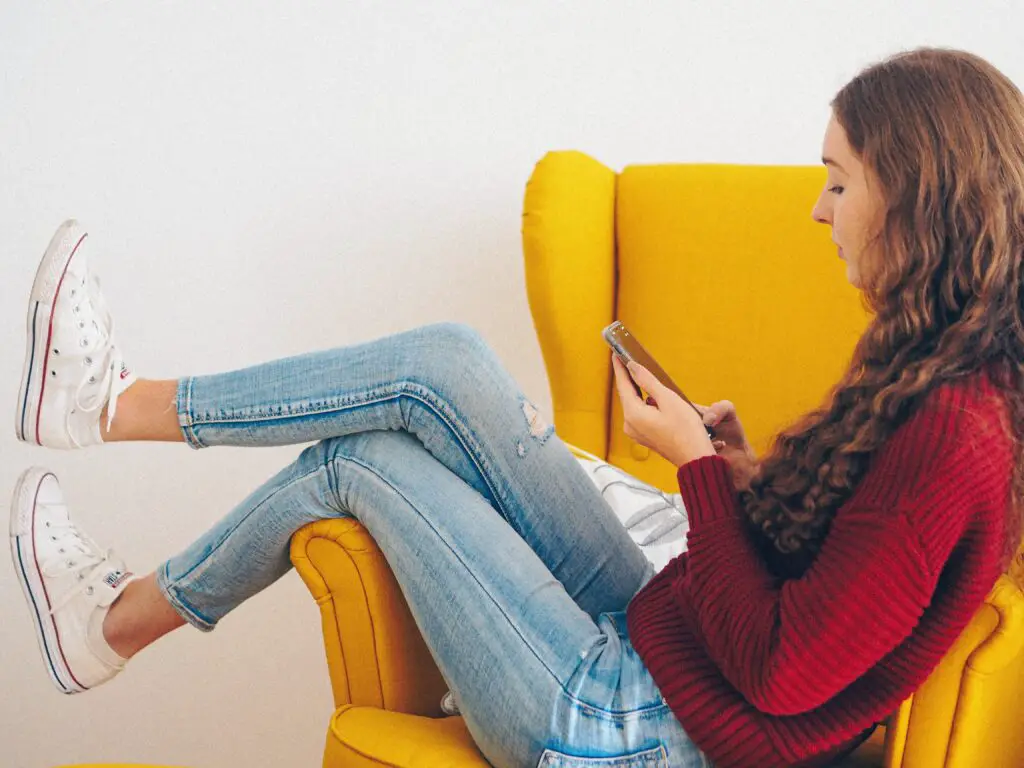 Being a mom is one of the most rewarding jobs out there, but let's be real. It can also be incredibly stressful. Juggling work, home responsibilities, and childcare can leave little time for self-care, and the pressure to be a perfect parent can take a toll on mental and emotional wellbeing. This is where Headspace comes in – a meditation and mindfulness app that can help busy moms manage the daily stresses of life. It's seriously one of the best apps for moms.
I have had the Headspace app on my phone since 2018, so this is my very honest review!
**This post contains affiliate links. This means if you click and buy, I may receive a small commission (at zero cost to you). Please see my full disclosure policy for details.**
In this blog post, I will share how Headspace can support moms in finding balance and reducing stress. I've included some screenshots from my own phone so you can see the amazing things it offers!
1. Listen to Guided Meditations
One of the most popular features of Headspace is its library of guided meditations. These short audio sessions can help moms to relax and recharge, even in the midst of a hectic day.
Whether you have just a few minutes or a bit more time to spare, there are meditations tailored to your needs. A great feature of the Headspace app is that you can see exactly how many minutes the meditation lasts. You can choose from themes like stress reduction, sleep, focus, and self-care, among others.
I admittedly used to think that meditations involved long periods of time sitting quietly and there was NO WAY a busy mom like me could do that. It seemed totally frivolous and not a realistic way to practice self-care.
Great news! There is an entire section of Quick Meditations in the Headspace app and they can be as quick as 1-3 minutes. In fact, the shortest one is called "Unwind." I think many of us busy moms could use that one!
Also, can we take a moment to appreciate the cute graphics and pops of color in this app?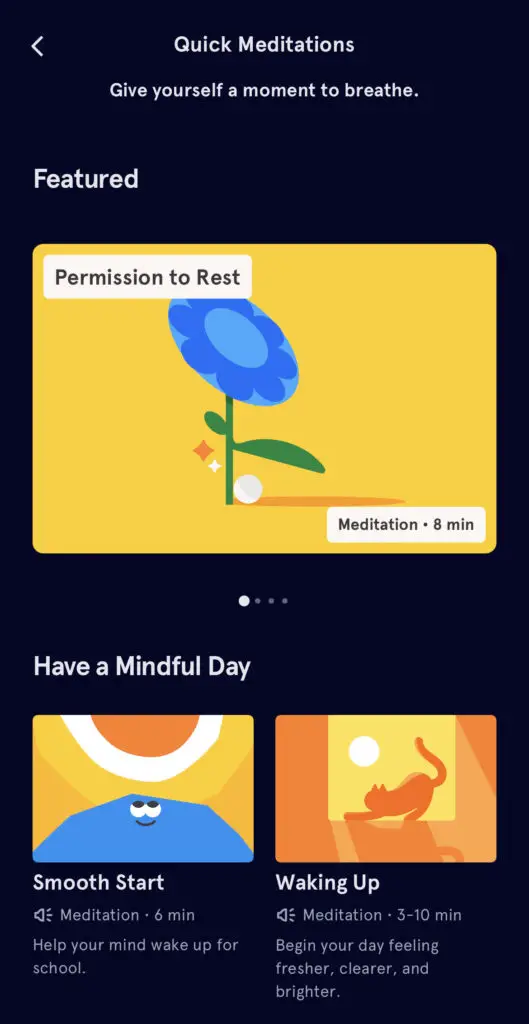 2. Try Out Breathing Exercises
Breathing exercises are an effective way to calm the mind and body, and Headspace offers a variety of breathing exercises that can help moms reduce stress and anxiety.
When we're stressed or anxious, our body's natural "fight or flight" response is triggered, which can lead to increased heart rate, shallow breathing, and muscle tension. By engaging in deep, intentional breathing, we can counteract these effects and promote relaxation and calmness.
These exercises can be done anywhere, anytime, and can be especially helpful during moments of overwhelm or panic. Moms can choose from a range of breathing exercises, including deep breathing, box breathing, and star breathing.
If you look on the screenshot I took on my phone, there are also breathing exercises you can try with your kids! What a great way to teach self-regulation strategies and build connection.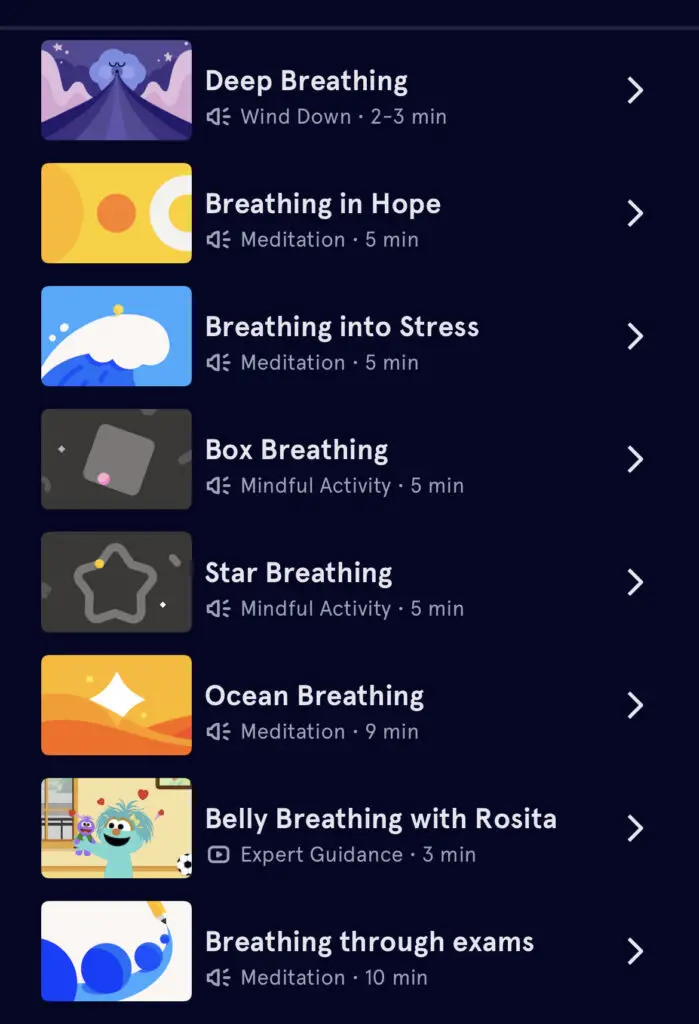 3. Fall Asleep to Sounds from Around the World
Getting enough sleep is crucial for overall health and wellbeing, but it can be challenging for busy moms who are constantly on the go.
Headspace's sleep sounds can help moms to relax and fall asleep more easily. These soothing sounds include nature sounds- called Soundscapes.
I personally LOVE the soundscapes. They are actual 3D recordings from places around the world. You can listen to a babbling brook at a monastery, a watering hole on the Savanna, or a gentle storm in Delhi. How cool is that?!
I'm a huge fan of thunderstorms. They put me right to sleep.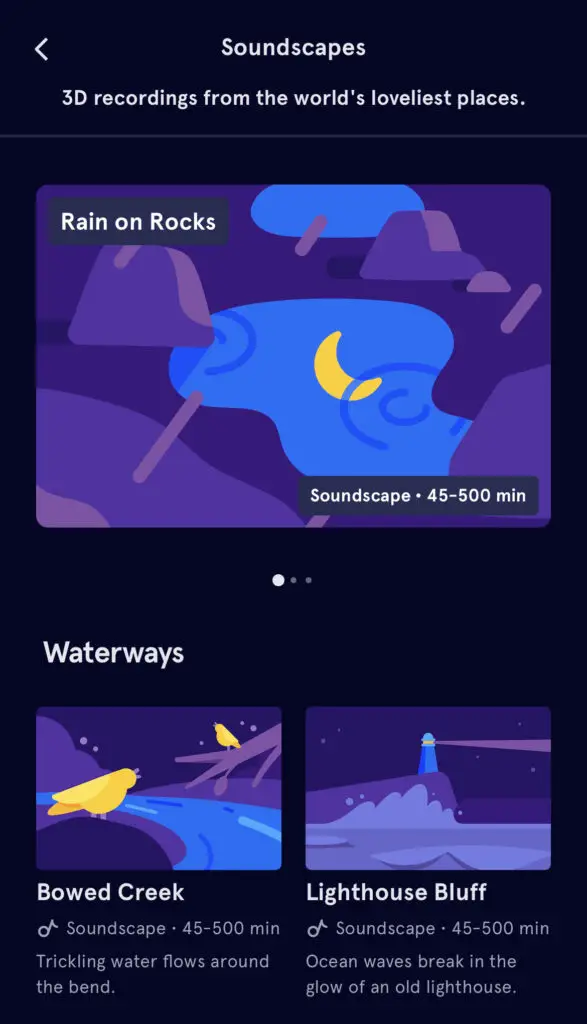 4. Get Help Falling Asleep
Headspace offers many tools to help you fall asleep. They include:
Soundscapes, mentioned above
Sleepcasts- storytelling narrated by different voices
Wind Downs- meditations and breathing to make you feel sleepy
Sleep Music- calming tracks made specifically for Headspace. Right now, John Legend offers 500 minutes of music on his special playlist.
Sleep Guides- get expert advice to help you with sleep
Nighttime SOS- guided exercises specifically for middle of the night waking
Sleep Radio- 8-hour mixes of sleep audio
They offer SO MUCH! There is literally something for everyone.

5. Help with Kid Bedtimes
Putting the kids to bed can be an absolute battle some nights. My 3-year-old is suddenly very afraid of the dark and it's taking much longer for him to fall asleep than it did in the past.
Headspace offers a toolkit for helping moms AND kids with bedtime. This feature alone might make it one of the best apps for moms. Am I right?
This toolkit offers:
Sesame Street Sleep stories
Tucking In Wind Down (6 minutes)
Meditations for Kids of All Ages (Under 5, Ages 6-8, Ages 9-12)
Seriously, could this app get any better?! My kids love the sleep stories. They are about 20 minutes long and are perfect for cuddling and winding down.
6. Become a More Mindful Parent
Being a mindful parent means being fully present and engaged with your child in the current moment, without judgment or distraction. It involves cultivating a deeper awareness of your own thoughts and emotions, as well as those of your child, in order to create a more positive and fulfilling parent-child relationship.
One of the unique aspects of Headspace, and what makes it one of the best apps for moms, is its mindful parenting section. This section includes guided meditations and exercises specifically designed to help moms be more present and attentive with their children. These exercises can help moms to stay calm and patient during challenging moments, and to cultivate a deeper connection with their kids.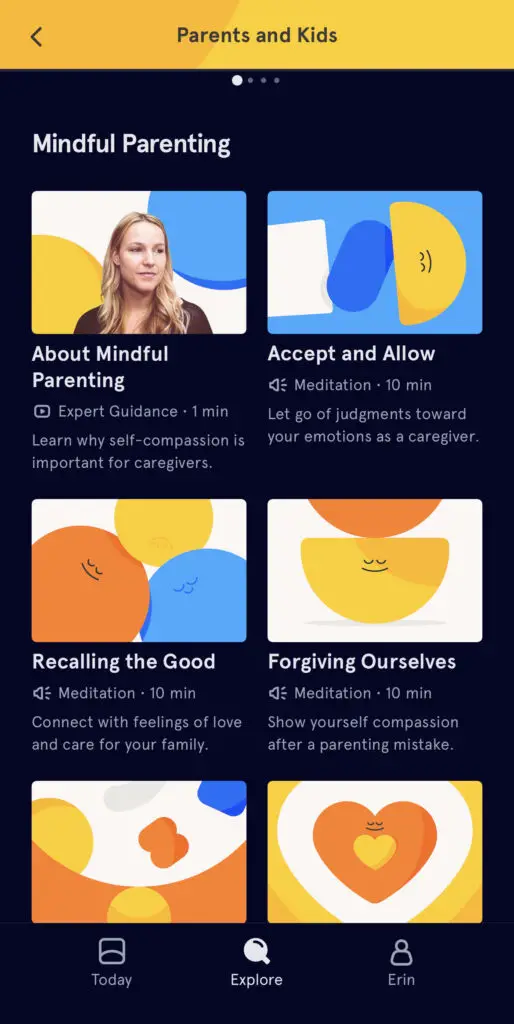 7. Get Your Own Personalized Plan
Headspace offers personalized meditation plans based on your specific needs and goals. Busy moms can select from plans focused on stress reduction, sleep, and mindfulness, among others. These plans can help moms to build a consistent meditation practice, which can lead to greater overall wellbeing and resilience.
If I click on the profile in the app I can see the average meditation length (mine is 19 minutes), total minutes of meditation, and number of sessions completed. It will keep track of your "run streak" and your monthly progress.
Headspace uses a research-backed survey to measure stress levels in your life. Every month, you will check-in with 10 questions and your progress will be measured over time. This is a great way to see if Headspace is working for you or if you need more help.
When I open the app I can see personalized recommendations for my day. Mine includes a breathing activity to start the morning, watching a short video, a daily meditation, and a basics course. In the afternoon, it recommends a core workout, and at night, an island drive sleepcast. Love that for me!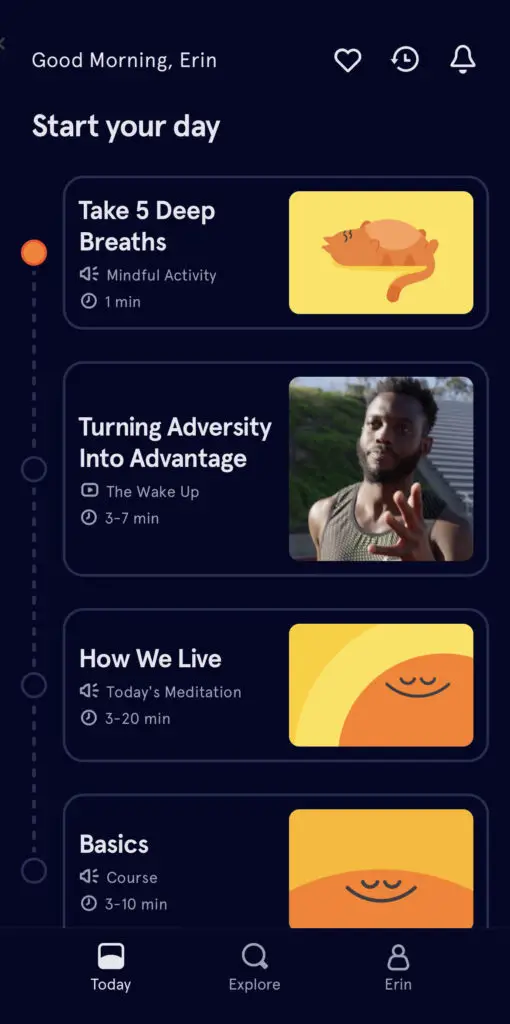 8. Find Workouts that Are Perfect for You
This is one of the newer features of Headspace and one I really need to start exploring. Headspace offers a variety of workouts that might be exactly what you need:
Yoga

morning yoga
daytime flow
stress relief
bedtime yoga
focus area stretches

Dance Breaks

short 1-minute dance breaks from Lincoln Center
learn dance moves from around the world- this would be so fun with your kids!

Mindful Cardio

Cardio with Kevin- feel like running with Kevin Hart and getting a good laugh? How fun!
Guided audios to listen to while you run
Focus on intention, appreciation, or consistency

Move Minis

10-15 minutes workouts that are effective…say no more!

Quick Workouts for all fitness levels
Meditations for Your Rest Days
9. Explore Podcasts
As of right now, there are 8 different podcasts on the Headspace app. One in particular that is perfect for teacher moms is Sunday Scaries. I've been in the education field for 12 years so I fully understand! The podcasts in this series are about 10 minutes long and can help you start Monday with a refreshed perspective.
There is even a Sesame Street podcast for kids to listen to when they are getting ready for bed.
Looking for some life-changing hacks? Headspace has a podcast called "The Long Time Academy" and it shares practices that can put your time on Earth into perspective. Sounds neat!
10. Unlock Your Creativity
Moms are creative individuals, no doubt about it. And I know if you're anything like me, you're always looking for new projects. Starting a blog has been an amazing way for me to express my creativity and get writing.
Headspace offers meditations, videos, and courses that can help you spark curiosity, cope with burn out, get focused, and break through a block. I don't know of many apps out there that offer such neat tools for moms. The variety is what makes it seriously one of the best apps for moms.
So, go ahead mamas! Get inspired and make something new!

Bonus: Spread the Love!
When you are a Headspace member, you can refer your friends for a free month of Headspace. Send a guest pass and help your mom friends stress less and feel happier!
You're such a great friend 🙂
Why Headspace is One of the Best Apps for Moms
Headspace is an excellent tool for busy moms who are looking to reduce stress and find more balance in their lives. With its library of guided meditations, breathing exercises, sleep sounds, mindful parenting tools, and personalized plans, Headspace has something for every mom.
By taking just a few minutes each day to focus on self-care, moms can reduce stress, boost their mood, and feel more empowered to handle the challenges of parenting and life in general.
Related post: The Importance of Self-Care
Tell me in the comments if you have given Headspace a try or if you are considering it! Do you know any other amazing apps out there for moms?
And I would love it if you pinned this post!
Sincerely,
Erin