Making a career change in midlife can feel incredibly intimidating, but it doesn't have to be! With the proper planning and determination, you can make a successful career transition. This post is a compilation of different resources and tips for getting all your ducks in a row as you consider a new job or career.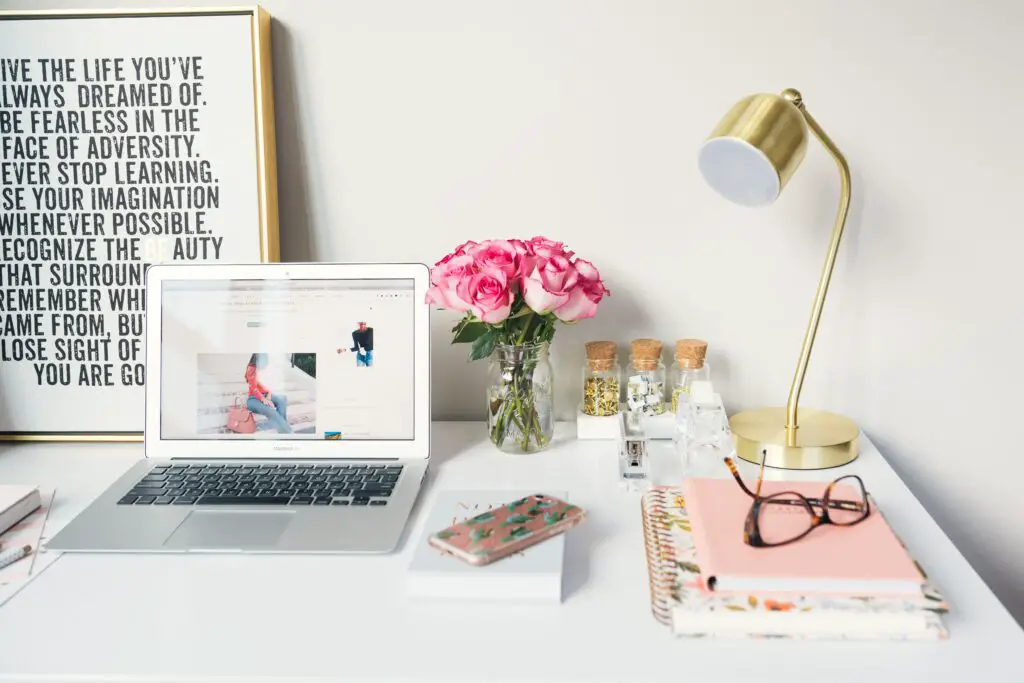 If you're new here, welcome to Mom Meets Midlife! My name is Erin and I'm, as you probably guessed, a mom entering midlife.
After working hard to earn a graduate degree and then spending 13 years in the same career, I decided to take a huge leap and let it go.
Yes, it's a leap of faith, but I didn't jump into the unknown with my eyes closed! I pondered it and then pondered it some more. Then, I dug myself out of analysis paralysis and got to work.
I realized I was holding myself back from the life I really wanted. That life involves a flexible work schedule so I can be more available for my family. It also involves less stress and more time to pursue activities I'm genuinely passionate about.
I just couldn't achieve that in the job I was in, and that created burnout. I even tried changing my building assignment for a year to see if the change in scenery would reinvigorate me.
It didn't.
The letter of resignation was sent, I breathed a huge sigh of relief, and now I'm preparing myself for an exciting new journey.
The advice in this post is genuine and comes from a place of personal experience. Since making the decision to leave, I've already received several offers for new and exciting part-time work and I'm also starting to research how I might be able to build my own private practice.
Before you get started, I want you to know about a free resource I put together, just for midlife individuals considering a career change. It is a 28-page workbook that includes:
skills inventory
values inventory
interests survey
feedback interviews
When you sign up, you will receive an email with a link to download the PDF file. I would recommend printing it out so you can write on it and record your answers. It will be helpful to refer back to when you start working on a resume. You will also be signed up to receive newsletters from yours truly.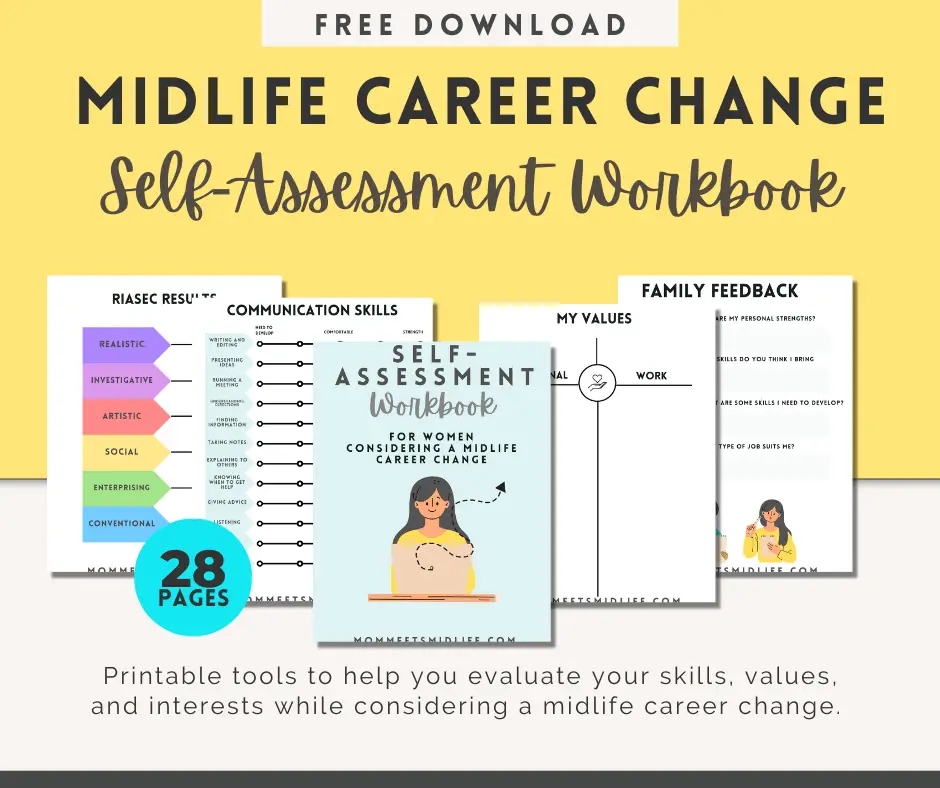 Be sure to save this post so you can reference it later!
Advice for a Midlife Career Change:
1. Do your research about careers
Take time to explore what other opportunities may be out there and consider how your skills may transfer to another role.
Research the job market and get educated. Knowing what types of jobs are available and the qualifications required can help you determine a career direction and create goals to achieve.
Looking at job postings for the jobs you want will give you an idea of what they are looking for and potential salary.
I would recommend using a variety of sources to get a well-rounded understanding of the different options available to you.
2. Take advantage of online resources
Technology has made changing careers midlife much easier than it used to be. There are many online resources such as professional associations, career counseling services, job search engines, and other specialized websites. You'll find plenty of helpful advice and tips on how to make the transition smoother.

3. Update your resume
It's important that you showcase the value you can bring to a new employer by highlighting experiences and skills that are relevant to the new role.
Rebrand yourself. Think of a new way to present yourself that reflects the changes in your career goals and aspirations. Consider a professional makeover, create a portfolio website or blog, or develop an online presence through social media that showcases your qualifications and experience.
Make sure your resume and cover letter contain zero errors. Have someone read through them for you with a fine-toothed comb. You can also download Grammarly for free to have spelling, grammar, and wording checked thoroughly. One of my favorite features of Grammarly is its ability to detect the tone of your writing. You want to make sure you sound positive and professional.
You can use resume templates on Canva for a beautifully designed, modern resume. I used Canva myself when I interviewed for a university position last year. I was very pleased with the results but definitely had to work on my design skills!
My Perfect Resume is another online resource that helps you build a professional resume and cover letter. They have a 4.6/5 rating on TrustPilot, which is excellent! One of their best features is that they can help you draft a resume that fits the type of job you want.
4. Get organized
Make sure you have all your documents in order, such as a resume, references, certifications, or licenses for the new field you want to enter. Keep track of deadlines for job applications and other important documents.
Use an expanding file folder to organize documents at home. If you are traveling to an interview in a physical location, take a professional-looking padfolio with you and keep your documents tidy inside. You'll also have a notepad inside to take notes.
If you need any help keeping track of deadlines or to-dos, consider using Google Keep. It allows you to create notes and lists that sync to your other Google suite products, such as Google Calendar and Gmail.
5. Work on new skills
Consider training or re-training. If you need additional certifications or qualifications, look into programs that may help you gain the necessary skills and knowledge required for your desired role.
Realistically assess the skills you already possess and determine what else you may need to learn.
In the Midlife Career Change Self-Assessment Workbook, I provide an in-depth skills inventory to help you identify strengths and areas of growth.
Where to Access Online Career and Skills Training
Once you know what those areas of growth are, you can find the perfect online training.
Invest in yourself so you can land the job you want OR maybe even get a promotion at your current job!
6. Network for your midlife career change
Network with other professionals in your field. Connecting with like-minded individuals can open up doors of opportunity and provide valuable insight into the industry. Don't be afraid to reach out and make new contacts; you never know who may have the perfect job or valuable advice.
Seek out support. Whether it's attending a job fair or finding an online group of people making similar changes, it can be helpful to tap into the collective experience of others.
Reach out to your contacts, such as family members, friends, and colleagues who are already in the field you want to enter. They may have the perfect job or valuable advice that will help you make better decisions. You can also join professional associations related to your desired field and attend industry events to expand your network.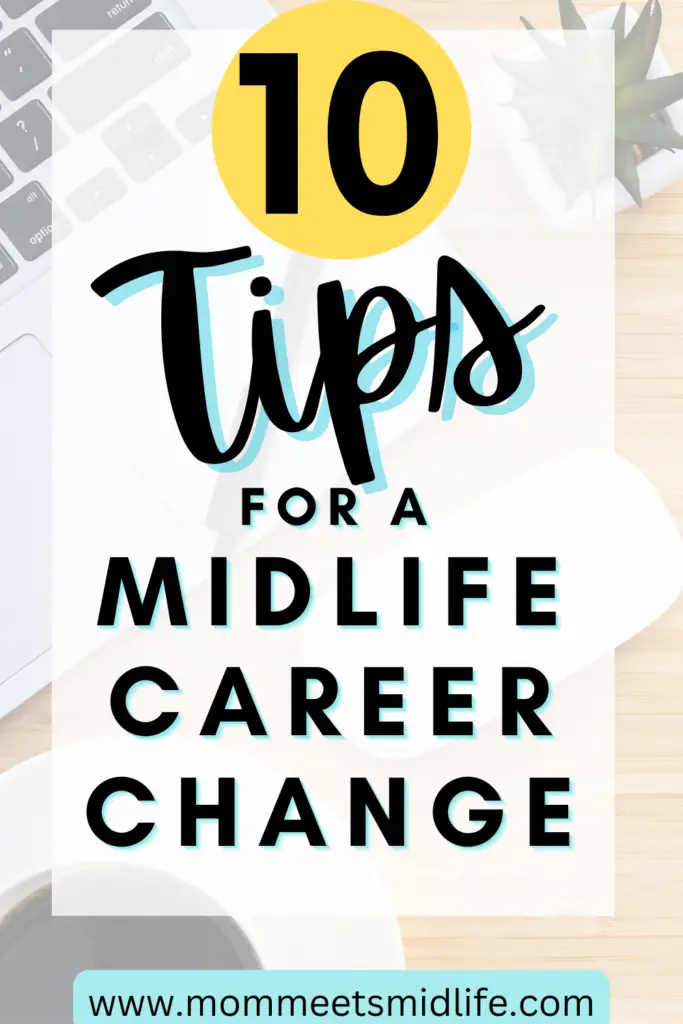 7. Find a mentor
Find a mentor who can provide you with advice and guidance as you transition into your new role. They can help you identify potential obstacles and recommend ways of overcoming them.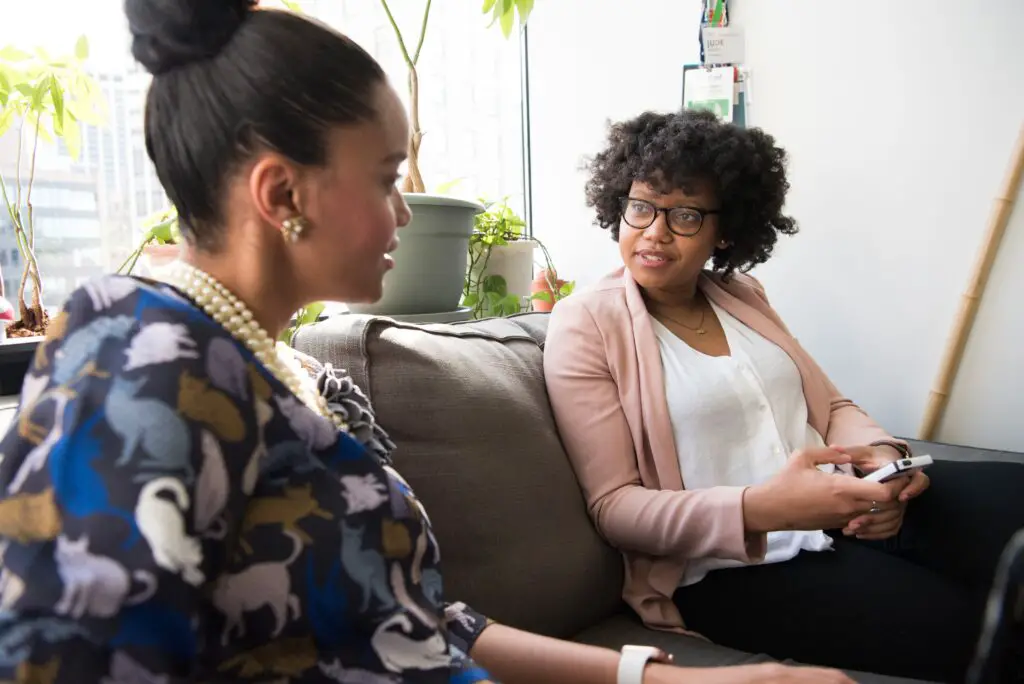 8. Be patient – and persistent when making a midlife career change
Making a career change midlife isn't something that happens overnight. It takes time, dedication, and hard work to succeed. Don't be discouraged if you experience setbacks along the way; just keep going and stay focused on your goal.
Don't be afraid of failure. Making a career change isn't easy, but it can be incredibly rewarding. Whenever possible, see failure as an opportunity to learn and grow.
9. Keep an open mind
Stay flexible. Openness to different job roles, locations, or industries is essential for success in making a midlife career change. Be willing to consider options that may be slightly different from your original plan. Even if a role isn't your exact dream job, it could still open new doors and introduce you to a career you never thought was possible.
I myself have a backup plan to substitute teach if it's taking a while to get my private practice up and running. There is always a need!
10. Take care of yourself
Make self-care a priority. It's important to maintain physical and mental health while making such a significant career change. Be sure to invest time in activities that bring you peace or joy, like yoga, meditation, or catching up with old friends.
I started using the Headspace app several years ago and have never looked back. It's a tool I highly recommend for anyone who could use a little more peace in their life.

Go easy on yourself! It can be daunting to start over, and there will likely be times when you feel like giving up. It's important to stay positive and celebrate successes in the journey, no matter how small they may seem.
Are you considering a midlife career change? I hope some of these tips help to point you in the right direction and help you navigate your successful transition.
Sincerely,
Erin