In this blog post, I have curated a collection of toys for kids of all ages, ensuring that these treasures will be cherished and played with for hours on end and years to come.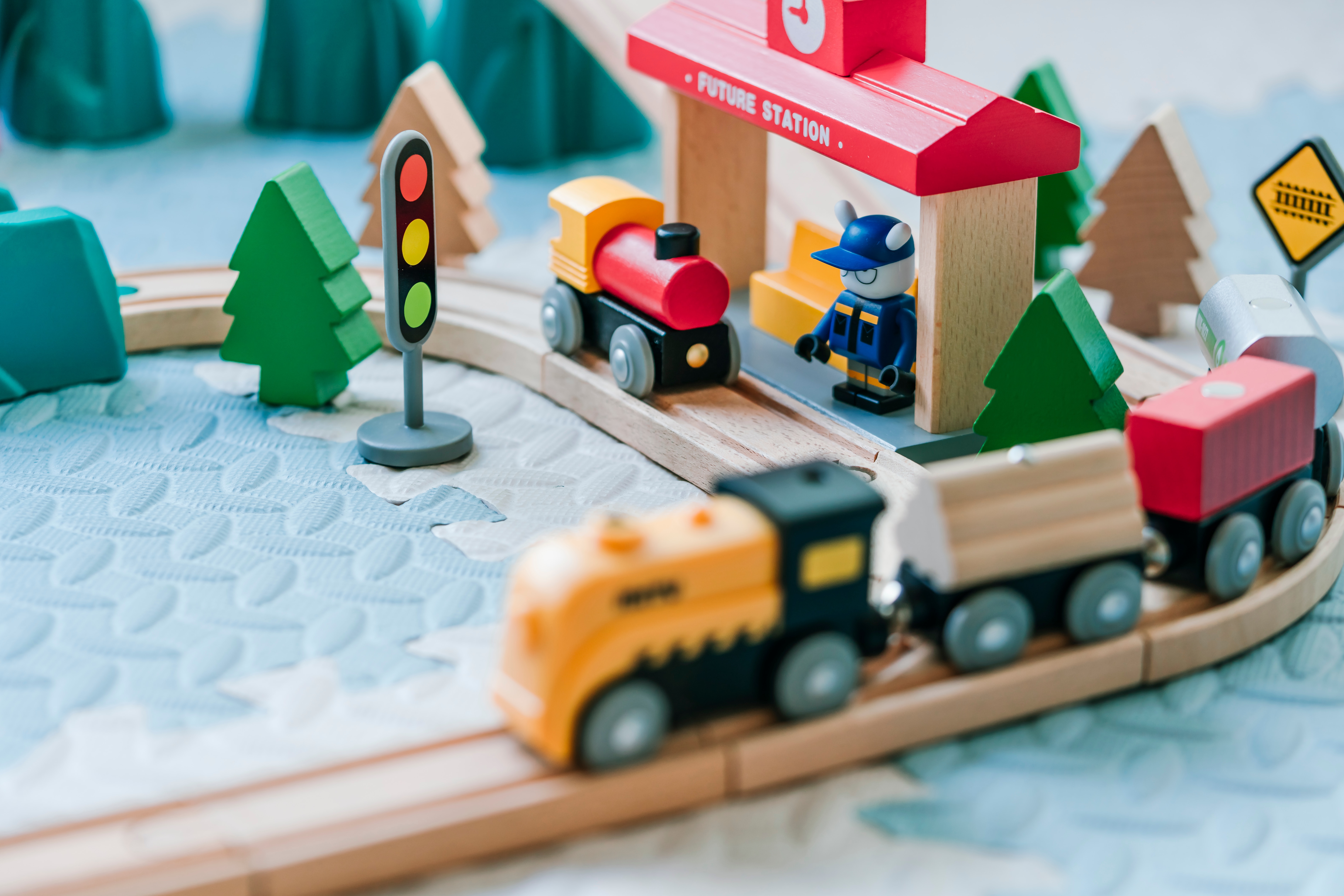 In an era dominated by flashy gadgets and digital toys, my kids have been the recipient of many of these types of trendy toys. The amazing thing is, I've noticed that these aren't actually what my kids want. They might open them as a gift or see them on the TV and "oooh" and "aaah" but once the initial excitement wears off, these toys find their way to the bottom of the toy bin or the back of the closet. About a year later, they are in the donation pile.
Plus, when you pick toys that are only interesting for one year of your child's development, it doesn't feel like a great investment. At all.
And if you're choosing toys that only one child finds interesting, when you have a spread of ages in your family, you're just taking up valuable space in the closet or playroom.
I don't know about you, but after a few years of requesting and buying those types of toys for my kids, it felt like such a waste of money, space, and plastic. So, I'm here to share, as a midlife mom of three kids, what is a worthwhile investment as far as toys are concerned.
If you're curious about toys for kids of ALL ages, I've put together a list of things that will actually get played with and stand the test of time.
Most of these toys possess a magic that transcends generations and ignites imaginations. As the world around us evolves at a rapid pace, these toys remind us of the enduring power of simplicity and creativity.
I can't guarantee your kids will play with them, but you know your children best. Use this list as a guide. For reference, my children are ages 8, 6, and almost 4.
**This post contains affiliate links. This means if you click and buy, I may receive a small commission (at zero cost to you). Please see my full disclosure policy for details.**
1. Wooden Train Set

Our amazing neighbors gave us their train set when their boys became teenagers. All three of my children have benefited from this hand-me-down.
And every time our (six!) nieces and nephews come over to the house, the train set comes out.
What is it about these humble wooden sets that keep kids of all ages playing for hours?
I think it's the endless combinations of tracks that kids can create. They aren't bound to a certain predetermined layout.
Plus, there's no noise that kids have to compete with (thank God). They get to make their own stories and sound effects. Today there's a busy train station and town festival but maybe tomorrow there were fallen trees blocking the tracks and all the trains had to come help fix the problem.
We keep our set in a clear plastic tub, which is able to hold the tracks, trains, and bridge. The tunnel mountain stays on top. If you have more room, it wouldn't be a bad idea to get a train table with built-in storage bins. I had considered purchasing one, but since we already own a LEGO brick table, it felt like overkill. Sometimes, the floor ends up being the best place to play anyways.
2. LEGO
When it comes to iconic toys that have captured the hearts and imaginations of children worldwide, few can rival timeless LEGO.
But what exactly makes LEGO so universally popular among kids?
LEGO's universal appeal also stems from its ability to cater to a wide range of ages and interests. From toddlers to teenagers, LEGO offers age-appropriate sets and themes that capture the attention of children at every stage of development.
My youngest has inherited our set of Duplo blocks, and he loves that he can manipulate them and make really cool structures, like his older siblings. I love that it's helping refine his fine motor skills and spatial awareness.

My older children (ages 6 and 8) just started using the classic brick sizes. They are starting to tackle more intricate designs and to my absolute delight, they are working together peacefully to follow building instructions and solve problems. I love listening to them make up stories as they play.

My aunt recently gave us her adult son's bin of LEGOs, including themed sets. My middle child is in LEGO heaven right now. I was a little worried we wouldn't have any space for it, but amazingly it all fit into our LEGO table. That table has been an incredible investment. I absolutely love the way the tabletop can flip back and forth between building platform and flat surface. The best part? It works with bricks of all sizes, so it lasts from the DUPLO stage to the intricate design stage.
The table stays in my six-year-old's small room and it really doesn't take up a ton of space. We tuck it in a corner and easily pull it out for more space if needed.

My advice? Buy a small Duplo set, because your kids will outgrow it fairly quickly. They don't need a ton of blocks to overwhelm.
Other Types of Building Sets
Other building sets we really enjoy are magnetic tiles and wooden blocks. We have had sets of both, and they get played with. Do you need all of them? Definitely not. But, if they are gifted to you, you might as well hang onto them and see which ones get the most attention.

I'm always going to advocate for minimalism, especially with toys, but your kids might do some really creative things if they put all the sets together and add with train sets or marble runs.
3. Pretend Food Play Sets
Over the years, my children were gifted several sets of pretend food. The one that every child played with and has stood the test of time, is Melissa and Doug's Ice Cream Counter. I even took this set to school for a few weeks and my students begged for me to get it out of the cabinet.
In fact, right now, I'm babysitting my nephews, and this is the toy they are playing with together.
It's been played with so much it's missing a few parts but still very loved.
I love that it includes a menu, because you can work on social skills and listening skills. Give you child an order and see if they can fulfill it!
Honestly, I could go on and on and on about this toy. If you're wondering what to give your 2-5-year-old as a gift, this is a good bet.
4. Dress Up Clothes

Dress up clothes can be extremely cheap and fall apart quickly, especially if you need to wash them. I ended up finding a brand of washable dress up clothes that were amazing quality and lasted for several years and Halloweens before we handed them down to our nieces. Little Adventures offer outfits that all kids will love, including princesses and superheroes.
My favorite feature is that there is zero glitter that will fall off everywhere. If you're ever had a cheap princess costume in your house, you know what I'm talking about.

Through imaginative play, kids develop vital cognitive skills, such as problem-solving and storytelling. They learn to think outside the box, adapt to different scenarios, and express themselves creatively.
They learn to see the world from different perspectives, embracing diverse roles and experiences. Dressing up as a doctor may inspire a sense of caring and nurturing, while portraying a superhero can instill a desire to help others.
**If you're noticing a theme with the toys I've mentioned so far, it's that they don't make noise, don't require batteries, and let's kids use their creativity and imagination. Keep those criteria in mind when you look for toys and make wish lists. **
5. Search and Find Games

These types of activities are perfect for game night and kids (and teens) of all ages love them. There are several variations of search and find games. We personally own Eye Found It in multiple themes, Spot It!, Spottington, and Small World.
Eye Found It and Spot It are card decks that can easily be thrown into your purse or diaper bag to keep kids entertained out in public. They have been lifesavers in that aspect.
Spottington is a little bit more difficult and can get competitive, so it would be good for older kids or teams.
I was fortunate enough to find Small World at the thrift store in perfect shape. There's no rushing to find something before another person, so it's very relaxed but still involves looking for a particular item in a picture scene.
And I truly mean it when I say kids of all ages love these types of games. My three-year-old begs to play AND my former middle school students always asked for it.
Not only do games help build great social skills, but these particular games help your child build attention and observation skills.
These games are well-loved in our home, and I foresee us playing them with our grandkids someday!
Truthfully, you don't even need physical games to have this type of fun. Just encourage them to play some good old-fashioned hide and seek or I Spy. Or create your own scavenger hunt cards. Just think of different categories of items that could be found, or descriptive terms (ex: small, striped, stinky, etc) and write them down in checklist format.
6. Watercolor Paints

Watercolors are so much fun to use and my kids request to paint all the time. With watercolors, you don't have to worry much about staining or huge messes. Set up the paints and special paper, give them a cup of water and a towel and you're good to go.
Now, obviously there will have to be a bit of instruction at first to make sure your paints don't end up completely flooded.
It's a very relaxing activity and it's amazing to see the creativity that unfolds.
If you have a little one who doesn't have the fine motor skills just yet, the Melissa and Doug Water Wow books are a great start. Sometimes my youngest prefers to do that while the older kids paint.

Bonus- the water wow pads are reusable and great for road trips or sitting at restaurants.
7. Sensory Table

Water tables are great, but sometimes they come with too many bells and whistles that break off or don't really serve a good purpose.
We were gifted a water table when my oldest was a toddler and we used it for a long time, but ended up tossing most of the attachments. What I figured out, is that it makes more sense to get a table that can all-purpose.
Sensory tables can be SUPER expensive (why?!) but if you use a basic sand table, it can also hold water, beans, rice, whatever else you want it to hold.
I love the Step 2 Naturally Playful Sand Table because it is extremely multi-purpose AND it has a lid to keep bugs and dirt out when it's not in use. There are also train tracks molded onto the lid for additional play opportunities. It doesn't get much better than that!
In the summer, it stays outside with water toys. The rest of the year, it's in our basement and holds kinetic sand or whatever sensory materials we are playing with at the moment.

So, why are sensory tables so much fun for kids? And why would you want to deal with the potential mess?
Sensory tables provide children with opportunities to engage their senses. By exploring different materials, they learn to perceive and understand the world around them. Plus, you can do lots of imaginative play with boats and cars and little action figures!
Curious if your older children would still like it? Of course! Will they spend hours playing with it? Probably not, but I can tell you that even as an adult I enjoy relaxing sensory experiences. Sometimes a moment of calm mindfulness can do wonders.
8. Baby Dolls

Baby dolls are a classic choice and guaranteed to be played with by girls AND boys. We have a Manhattan Toy Wee Baby Stella, along with some care accessories. My oldest still takes care of her baby dolls from time to time.
These dolls come in different skin tones and genders, which is fantastic. Every kid should have a doll that looks like them.
Why are dolls such a great toy to have around the house? They develop:
empathy
communication
social interaction
problem-solving
planning
nurturing and caregiving
self-identity
fine motor
Plus, dolls can offer some comfort to a kiddo.
If you're looking for a long-lasting toy that will benefit your family for years to come, you can't go wrong with a baby doll. Just try to avoid the ones that need batteries.
9. Doll Houses and Farms

These types of play sets again encourage creativity and storytelling. Avoid the sets that make obnoxious noises. When the toys do the talking, there's not much else the kids can contribute, and it loses its novelty after a short while.
My boys love my vintage Fisher Price farm from the 80s. I'm never letting it go!
For my daughter, we found a very basic handmade dollhouse, but it is gigantic. For a long time, she used it for her little dolls and figurines but now it serves as her bookshelf and display case for her gymnastics medals. Love a great multi-purpose item!
10. Outdoor Play Equipment
If you have a yard, you have probably considered a swing set or trampoline. Kids do love trampolines, but injuries feel pretty inevitable with them, so I am personally avoiding.
We have a tiny backyard. It's nothing special at all. But I was really hoping to find something that would promote gross motor skills and keep them outside in the fresh air a bit longer.
After doing some research, we ended up getting a climbing dome. It's sturdy enough that it doesn't tip or shake while multiple kids are on it, but lightweight enough that we can move it around the yard to mow. We even ended up buying a saucer swing to hang from the center. It has been a huge hit!

Tie some blankets or towels to it and it's an instant fort. So far (knock on wood) no one has been hurt from the climbing dome. I would recommend supervision though, for sure.
11. Playground Balls

Any time my kids are in the store with me and they see the display of big bouncy balls, I let them take one. Why? They're super cheap and I KNOW they are going to play with it.
We have all types of playground balls in the storage chest outside. There are constant games of kickball, catch, and four square happening when we are outside together.
It's simple, fun, and gets them active.
Seriously, throw a bunch of cheap beach balls in your backyard and see what happens.
12. Floor Puzzles
When your kiddos are very little, you'll probably want a couple peg puzzles so they can grip it easily. Once they master that, move on to harder puzzles.
My kids love pulling out floor puzzles and working together on them. They're huge and it's a great feeling of accomplishment when it's done. And trust me, they do the same puzzles over and over again.

I love turning on some relaxing music, especially on a rainy day, and watching them work together to get the puzzles done.
13. Nature Guides
Most kids are curious about nature and the world around them. I love encouraging my kids to learn and observe while they are outside, so I've bought them several Golden Guides. To be honest, I'm pretty curious too and I pull out these reference books regularly while I'm sitting out on my deck.

These little golden guides are necessarily made for children but they are simple and the pictures are easy to look at. The first guide we bought was the insect book and my kids became OBSESSED. They started identifying every bug in our yard.
The next book we bought was the wildflower guide, so we could give names to the blooms we saw out on our walks.
You don't have to buy these particular guides, but definitely check out some nature books at the library or find some kid-friendly versions at the bookstore and let your kids become little biologists.

My kids were gifted an outdoor explorer set and they also play with it quite a bit, while carrying our worn out, dog-eared guidebooks around.
If your kids don't like heading outside, here's what has worked for me. Buy some cheap rain boots/sandals and keep them in a basket next to the door. When they go outside, they can just slip them on, run around rain or shine, and then set them outside by the door or put them back in the basket so they don't track dirt into the house. Making it easy and mess-free has helped a lot.
How to Purchase Toys on a Budget
I've shared all these toys with you, and you might be thinking, "Good grief, I don't want to spend a bunch of money on these!" And I totally understand. Sometimes those flashy trendy toys are the cheapest and easiest option. But trust me, it's so worth finding the toys that actually get played with.
A lot of the toys I listed I have received as a hand-me-down or found cheap at a garage sale or thrift store. If I bought it new, it was for the holidays or a birthday and I can guarantee I used a gift card.
If you've visited my blog before, you are probably already aware that I am a huge fan of online survey sites and cash back rewards. I can't live without them, and I believe EVERYONE should utilize them as a smart financial habit.
Swagbucks is a great place to start. I wrote a whole post about all the ways to make money with Swagbucks.
And if you are interested in more more ways to save money with kids, I am also passionate about saving money (and making money) with your kids' clothes.
Sincerely,
Erin