Discover what's in my purse as a midlife mom. The diaper bag days are gone, and a new purse era has been ushered in!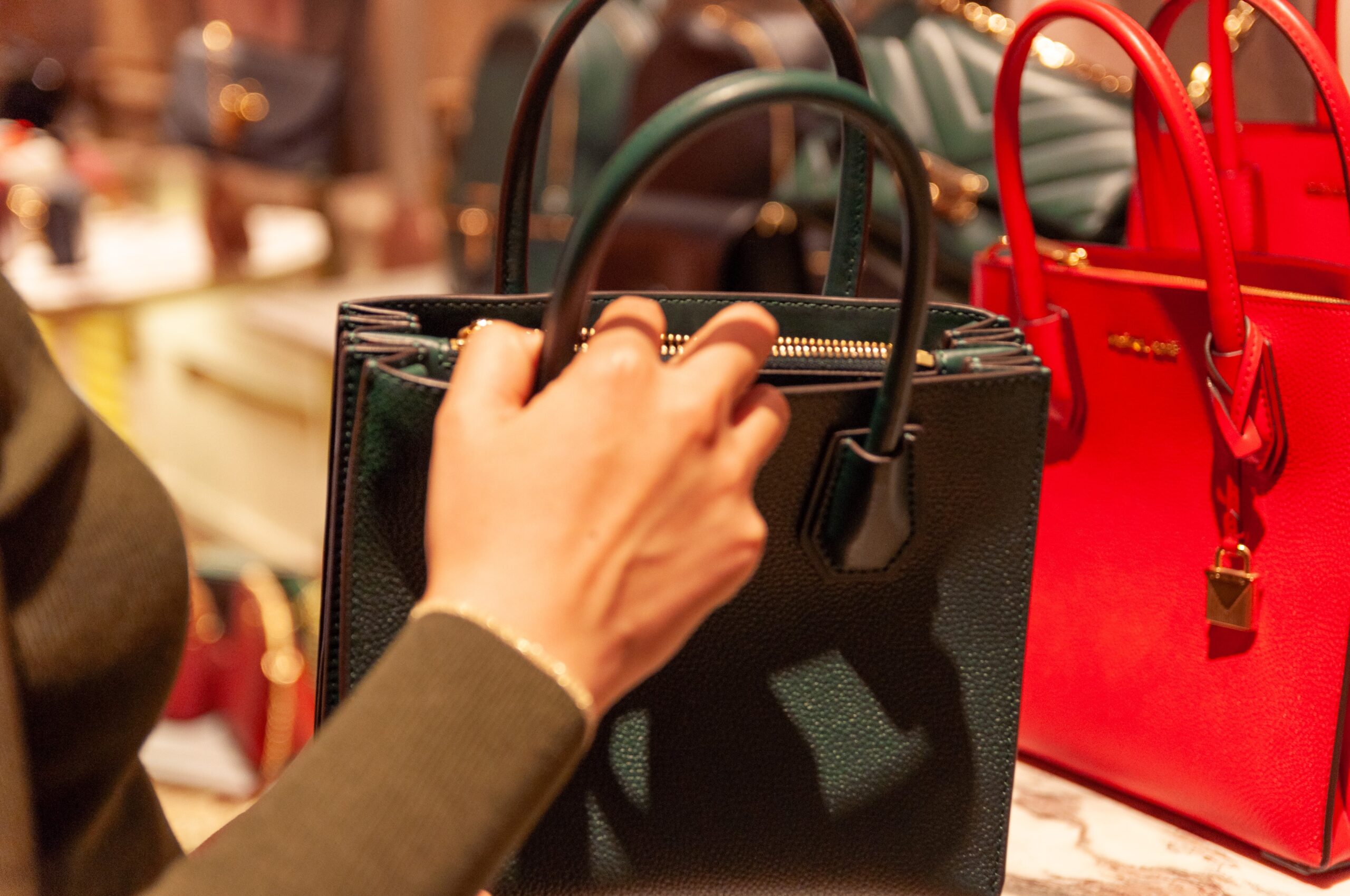 The bag I carry from day-to-day has changed dramatically over the years and has been a true reflection of the stage of life I am in at that moment.
In my early 20s, I typically had a small clutch that matched my outfit for a night on the town with friends. There was no need for anything other than the essentials: phone, ID, cards/cash, and lip gloss.
Fast forward to my late 20s and early 30s- I now had a gigantic diaper bag everywhere I went. It was so crucial that I ended up buying the same diaper bag in multiple sizes, depending on the location I was headed to and how many children I had with me. If you're in that stage of life, you're truly in the thick of it! You need something reliable, easy-to-clean, with lots of pockets.
Over time, I realized I was typically packing way more than I needed, purely from anxiety and worry about what could happen while we were away from home.
Once my children were all out of diapers, I happily sold the diaper bags in a garage sale and found a couple small purses that fit my lifestyle.
**This post contains affiliate links. This means if you click and buy, I may receive a small commission (at zero cost to you). Please see my full disclosure policy for details.**
My Midlife Mom Purses of Choice
While searching ThredUp, I found a lovely crochet crossbody bag by The Sak that I fell in love with. I typically wear neutrals in my capsule wardrobe, so red is a nice pop of color. Having a crossbody leaves me hands-free and doesn't weigh down my shoulders.
(Tip: If you like the idea of thrifting, saving a ton of money, and having a sustainable wardrobe, give ThredUp a try! Use my link and you'll save big on your first purchase.)

I also wanted something even smaller for times when I was a bit more active, like taking the dog on a long walk or watching a soccer game. A belt bag was the perfect solution. Not only are they incredibly practical, but they're on-trend right now!
I was fortunate enough to be gifted a Herschel belt bag for my birthday, after putting on my wish list. It's a budget-friendly, high-quality option! It's also roomier than most belt bags, in case you worry about space.

My Midlife Mom Purse Essentials
Alright, now that you can imagine the types of bags I have with me, let's get to the contents. I truly believe in the power of minimalism, and never having more than you need.
What you "need" as an individual is going to be vastly different than what others might need, and that's ok!
Wallet
The first item is obvious. I need a wallet for my ID, insurance cards, credit cards, and a bit of cash. I have had a leather Hobo clutch for many years. It's not only my wallet, but also my clutch for fancy events (which let's be honest, are few and far between).
It fits in both of my purses, although sometimes I prefer to take out only the cards I need and put it in an inside zipper pocket to create more room.
If you were buying this particular brand of wallet/clutch brand new it would be a gigantic splurge, and if you've been around this blog for a while then you know I would not recommend that.
I bought my Hobo clutch on eBay with flaws at a highly discounted price. You could also search for something similar on ThredUp.

Phone and Accessories
Have you ever left the house without your phone and felt instant dread when you realized it? It's the worst! You're suddenly completely disconnected from everyone and the worries about a potential emergency start flooding your mind.
So, for obvious reasons, my phone stays with me. I like having a Pop Socket on the back to make it easier to hold and prop up in the car. Pop Sockets are a nice choice because they pop flat when you want to stick them in your purse or pocket.
Keys and Keychains
I've pared down the number of keychains and accessories on my keyring because it can get so heavy and bulky. Now that I have smaller purses, I don't need something flashy to be able to find my keys in the depths of my bag. I have a simple dachshund keychain and that's it! It reflects my personality and something I love dearly.
Hand Sanitizer
Even though I'm out of the baby/toddler stage of life, my kids still touch EVERYTHING when we are out in public. Hand sanitizer is an essential that stays close at hand when we are out and about.
I've always had the Bath & Body Works variety with the holder that slips onto your purse handle. Another popular option right now is Touchland Power Mist. I like that they're flat so they take up less space in a small purse.
Lip Moisturizers
Ever since high school, I have been unable to survive without ChapStick. I can't stand the feeling of dry lips!!!
Typically, I have a classic variety in my purse, but lately I've been using some of my daughter's Lip Smackers. It's pure nostalgia and tastes amazing! Cotton candy is the very best…
I try to keep my own stick and a kids' stick in the bag so that we aren't spreading germs like crazy. You can bet that as soon as they see me applying anything, they want some too!
Chewing Gum
Another I need, and something I am truly not able to live without, is chewing gum. I need my breath to feel fresh at all times, and it honestly helps with nervous energy. Orbit gum has a sweet mint flavor that I love. It isn't too "spicy" for a mint gum. I also like how flat the packages are. They fit nicely in a small purse.
Feminine Products
Last but not least, I always have a feminine hygiene product on hand in case I find myself in need. Perimenopause can be unpredictable, and it means I need to be prepared at all times. There is a general window of time I can expect my cycle to start but that window has become larger. I also have the pleasure of little "surprises" after I think my cycle is finished. That's the worst!
Midlife is great, but this isn't one of the great parts.
What's Missing from My Purse and Why
You may have seen that list and been a little shocked at how little is there. It's extremely minimal but there's a reason for that. I really don't need all the things with me ALL THE TIME.
If there is something I need to jot down, I put it into the Notes or Google Keep app of my phone or put appointments directly into a calendar app. I don't want the risk of having a pen in my purse.
When we are going into a restaurant and I'm worried the kids will need items to keep them entertained, I have one of them bring a small backpack.
My car also has a small basket of items we need less often, such as baby wipes and Band-Aids.
What My Midlife Purse Says about Me
Here's what I think my midlife purse says about me and what it symbolizes:
I'm trying to avoid "sweating the small stuff"
I want to live in the moment
I know what's important in my life
My kids are working on their independence
I try to stay active
I don't take myself too seriously
I like systems that are functional and orderly
I'm curious…what's in your midlife mom purse? What do you think your purse and its contents says about you? Let me know in the comments!
Sincerely,
Erin